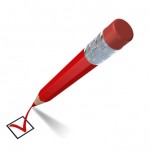 We'd like to say a big THANK YOU to all library users who took the time to participate in the Killam Library User Survey on our new Reference service model. Last September we installed an Information Desk in the lobby for quick ref questions, and moved the Research Assistance Desk to sit right behind it in the North Learning Commons. We were delighted to find from the results of our survey that you seem pleased with the results! Some highlights:
100% of respondents felt that staff at the Information Desk answered their questions appropriately. All comments relating to service were positive.
The Research Assistance Desk survey indicates that 41% of users who were referred from the Info Desk waited an average of 3 minutes, and 59% did not wait at all. Respondents felt the wait time was acceptable. Again all comments were positive regarding the referral process, and some helpful suggestions were made regarding visibility and location.
It's good to know that users are happy with our new service model and that our staff is doing a great job. But of course we always welcome your feedback, and will continue to work on improving our services.
Congratulations to Adam Colaiacovo, winner of the draw for $50 on his DalCard!