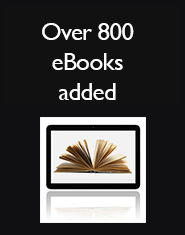 The Dal Libraries have recently added over 800 eBooks to our collection from the Canadian Public Policy and Canadian Health Research subscription packages. eBooks open on the ebrary site where they can be read onscreen or downloaded to Bluefire reader for offline reading.
Titles include:
Student Safety in Nova Scotia : a review of student union policies and practices to prevent sexual violence.
BYOD: (bring your own device) : is your organization ready?
Discrimination Experienced by Landed Immigrants in Canada.
Post-traumatic Stress Disorder and the Mental Health of Military Personnel and Veterans.
Public Lending Right in Canada : policy foundations /prepared for the Canada Council for the Arts.
Strengthening the Canada Pension Plan : take it to the public.
Integrating Tobacco Cessation into Addiction Treatment (ITCAT).
Global 360 : attracting investment in an increasingly competitive world.
Many other titles can be found through the catalogue or here: http://ezproxy.library.dal.ca/login?url=http://site.ebrary.com/lib/dal
More information regarding downloading ebooks can be found on the Mobile Resources & Ebooks Subject Guide: http://dal.ca.libguides.com/mobile