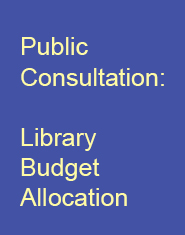 The Dalhousie Libraries have been hard at work developing an acquisitions allocation formula that will guide how we will allocate our budget in the future. Three different formulas with various strengths and weaknesses have been developed for consideration by the Dal community, and one of these formulas will become the model that the Dal Libraries will use.
The Dal Libraries are addressing historical allocations of the budget so that resources can be divided equitably across the five libraries. The three allocation formulas are based on elements such as:
• university priorities (operating budgets and research dollars)
• the number of faculty members in each faculty
• the number of students per faculty
• the types of materials needed
• relative purchasing power in each faculty
The plan is to apply the chosen formula in phases, easing into the allocations per faculty. The formula will be assessed and updated regularly to reflect current realities at Dalhousie (enrolments, faculty numbers, etc.).
If you want to learn more about the three budget allocation formulas and to ask questions, we are hosting two public consultation opportunities:
***UPDATED***
Tuesday, February 25, 4–5 p.m.
Room 226, Chemistry Building (changed from the McCain Building)
Studley Campus
Thursday, February 27, 4–5 p.m.
Room B228, B Building Addition
Sexton Campus
RSVP to marlo.mackay@dal.ca
A session for the Agricultural Campus will be planned for the spring. Stay tuned for details.