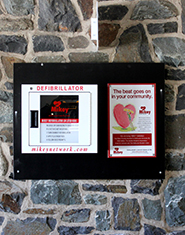 There's a new defibrillator installed in the Killam Library Atrium thanks to the Hillel of Atlantic Canada and the Jewish Students' Association. The two groups decided they wanted to give back to Dalhousie for all it gave to them, so they raised the $1,500 needed to purchase the defibrillator through the Mikey Network—a national organization that aims to place defibrillators in public areas.
There was a small ceremony held in the Atrium of the Killam Library to recognize the achievements of these groups and to thank Dalhousie staff for their support. Naomi Rosenfeld, Hillel of Atlantic Canada's director of Jewish student life said the groups were guided by a Jewish value called "tikkun olamm," which translated to English means "repairing the world."
There are now 28 defibrillators on campus, two have been used successfully in the past three years. Defibrillators can provide assistance in the event that a student, staff member or visitor suffers a cardiac arrest. The next time you're visiting the Killam, make a mental note of where it's located just in case it ever needs to be used!