What brought you to the MLIS program at Dal? I'm originally from the Annapolis Valley of Nova Scotia but recently spent a number of years living out-of-province in Montreal. I loved Montreal but was always a bit homesick for the Maritimes. Pursuing an MLIS degree at Dal allowed me a homecoming of sorts. I was also drawn to the small size of the program, which fosters a tight-knit, supportive and highly collaborative community.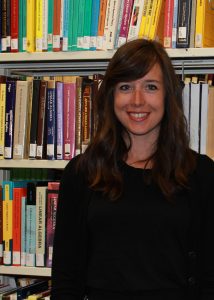 What drew you to the internship at the Dal Libraries? It is my professional ambition to become an academic librarian so I was very eager to gain hands-on experience in a university library setting and have the opportunity to help students and faculty with their research. The internship at the Killam Library was especially attractive because I knew it would allow me to interact with patrons from a diverse range of academic subjects.
Your educational background: I have a B.A. in English from the University of King's College and an M.A. in English from McGill University.
What you've been doing during your internship: In addition to working shifts on the reference desk, I've had the opportunity to work on a wide variety of library projects during my internship, including creating instructional content for the library website, leading library orientation sessions for new students, and helping to put together a number of themed book displays. Looking back, my favourite projects I worked on this summer were library assessment projects. This is an aspect of librarianship I knew little about before starting my internship and I enjoyed getting a taste of something totally unfamiliar.
Fun and interesting facts about you: Before starting the MLIS program at Dal, I worked as a freelance writer for two years. During that time, I did everything from food and travel writing to corporate copywriting. In my free time, I love to cook, read and write, and hike around Nova Scotia.