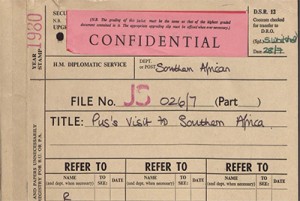 The Dalhousie Libraries have recently acquired Apartheid South Africa 1948-1980
This collection of primary sources contains British government files from the Foreign, Colonial, Dominion and Foreign and Commonwealth Offices spanning the period 1948 to 1980. The documents are organized into three chronological collections–1948-1966, 1967-1975 and 1976-1980 that span the history of South Africa from the start of Apartheid to its end.
The collection contains a wide range of English and Afrikaans diplomatic documents, letters, trial papers, news clippings autobiography, and more.
Illustrated explanations of how to use the database features can be found in the Page by Page Guide in the Help section.