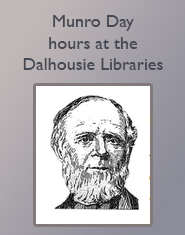 This Friday, February 5,  Dalhousie celebrates Munro Day. But why? Learn more about who George Munro was, and then read these top 5 facts about Munro Day.
All of the libraries will be open on Munro Day, but will be observing reduced hours:
Kellogg Library Collection (Chapter House)
 10 a.m.–6 p.m.
Kellogg Library Learning Commons (CHEB)
 12–4 p.m.
Killam Memorial Library
1–9 p.m.
MacRae Library
10 a.m.–5 p.m.

Sexton Design & Technology Library
10 a.m.–6 p.m.

Sir James Dunn Law Library
9 a.m.–4 p.m.

For a full list of library hours, check out our library hours page.