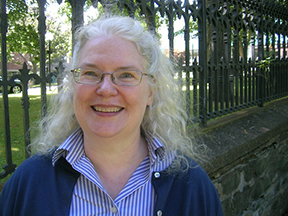 The Dalhousie Libraries are pleased to welcome Heather MacFadyen to the new role of Collections Strategy Librarian. In this new role, Heather will provide analytical, assessment, consultation, and planning services to support collection activities for the Dalhousie Libraries.
Heather started with the Dalhousie Libraries as an intern in 2011 while she completed her MLIS degree. Soon after graduation, in the fall of 2012, Heather secured a ten-month term as the management and economics librarian at the Killam Library. She was also responsible for helping to build the scholarly communication infrastructure for online journals being published at Dalhousie.
When her first ten-month term wrapped up in June 2013, Heather then worked in a twelve-month term as the Collections Services and Scholarly Communications Librarian. In this role, Heather has proven herself to be a valuable contributor to the Dal Libraries, serving Killam-based faculty and students and also serving system-wide needs in the areas of collections analysis and scholarly communications.
This past year, Heather was heavily involved in a large and significant initiative to develop a new acquisitions allocation formula, and has been instrumental in the creation of the Scholars@Dal faculty profiles and other DalSpace enhancements. In addition, Heather has participated as an active member of several Dal Libraries committees.
Heather has a PhD in English literature from the University of Ottawa. Before working in libraries, she worked in the telecommunications industry in a variety of communication and information management roles, producing everything from technical manuals to comics. These skills have served her well in the many roles and projects that she's taken on with the Dalhousie Libraries.
Please join us in welcoming Heather to her new role with the Dal Libraries!