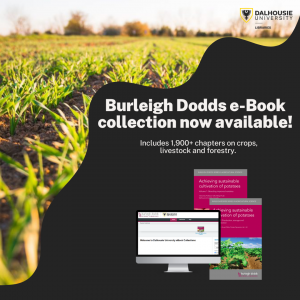 Dalhousie Libraries is excited to share that we've added the comprehensive Burleigh Dodds agricultural eBook collection to our resources. In it, you will find over 1,900 chapters on subjects like crops, livestock, and forestry, that focus on areas including crucial steps in the supply chain, breeding to harvest, and sustainable management practices.  
This collection is an excellent resource for undergraduate students, as well as more experienced researchers in the field of agriculture. It features an easy-to-navigate platform and the ability to read chapters online or download them to your computer, with new content chapters being added frequently. The procurement of this collection highlights agriculture-centered resources for our students, faculty, and researchers.   
A unique feature of the Burleigh Dodds eBooks collection is its organization. Rather than a limited assortment of full books, this compendium is comprised of themed chapters from a wide range of various books. Searching these chapters for the information you need is simple – a search bar on the top of each page allows you to search by keyword, title, author, ISSN, or subject. You can also do an advanced search by selecting the "search" button at the top of the page. You will then be directed to an advanced search page to sort and narrow your results based on your needs. 
You can access the collection directly or visit the Dal Libraries website and select Databases A-Z  in the Quick Links and scroll until you see Burleigh Dodds Agriculture eBook Collection.
If you need help navigating the database, please don't hesitate to contact our Agriculture subject specialist librarians, Erin MacPherson or Jaclyn Chambers-Page.  
We hope you enjoy this expansive collection!