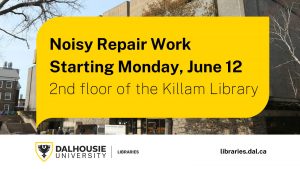 Facilities management will be doing repair work to the tile on the balcony of the emergency exit outside the Reading Room on the second floor of the Killam Library.
The emergency exit will remain available in the event of an emergency during the repair work.

The repair work will start on Monday, June 12, 2023, and is scheduled to take 8 weeks (June 12 – August 18).
Most of the loud work that involves removing the old tile will take place in the first 3 weeks.
This work affects students accessing the Reading Room and staff working on the main floor.
During the noisy repair work, alternative quiet study space is available for students on the 5th floor in the Archives & Special Collections Reading Room.
We apologize for the inconvenience this may cause.