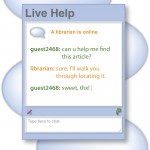 Do you have research questions? Need help finding a book? Looking for a journal article? Get Live Help now!
Live Help is an online reference service that provides quick, at-your-fingertips assistance to students and faculty at universities and colleges across Nova Scotia. Just text your question from your dorm room, office or wherever you are, and a librarian will answer. If there's no one online in your hour of need, just leave a message (be sure to include your email address), and they'll get back to you.
The Live Help widget is right on the Libraries' homepage. Service hours are posted on our Ask Us page. We hope you take full advantage of this great service!