By: Nnamdi Chiekwe, Dalhousie Therapeutic Recreation Student
"For tomorrow belongs to the people who prepare for it today." – African Proverb
With the many initiatives supported by Promoting Leadership in health for African Nova Scotians (PLANS), they have been instrumental in establishing our future leaders in health. The Black Health student groups, which consist of three student organizations: Nursing, Medicine, and Health professions, are focused on supporting students before, during, and after their studies in a health program. These student organizations have been a driving force in promoting and empowering  Black students and Black health on campus and in community.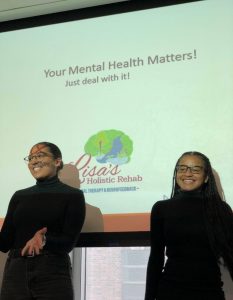 From facilitating sessions on admissions criteria and experiences as a Black health student, to educating and engaging community, these groups have been a phenomenal resource for current and prospective Black health students.  In just the few years of inception these groups have organized a research symposium, many lunch and learns, led by prominent Black healthcare providers, and facilitated numerous student engagement opportunities.
The colloquial phrase "seeing is believing" is a line that has a range of meanings, but often used to prove something beyond belief. For some, this phrase can apply to career pursuits, such as healthcare professions, which can often come down to not seeing representation on the front-lines, which is a problematic incidence. As our population continues to increase and diversify, our healthcare providers on the front-lines should follow to serve this trend.
As we celebrate the continued successes of people of African descent throughout the month of February and beyond, it is important to acknowledge each and all efforts. We have a growing population of Black health students who are a powerful force in shaping the future and faces of healthcare. Driving critical discussions, providing support for current and prospective students, and engaging the community, these groups have been and will continue to be a significant and important force in helping shape the field of healthcare as we should see it!
Be sure to check out the many awesome events happening this month by following this link for more details.
Also save the date, March 6-7, 2020, in partnership with PLANS, Imhotep, and Delmore Buddy Daye Learning Institute, the first annual Black Excellence in STEM and Health Research Symposium, a two day event showcasing Black Scholars and Black research. Follow the link for more details.
Check out our other Faces of Black Health entries!