Written by: Rachel Ollivier, QES Scholar and first year PhD Student in the School of Nursing
Our time in Dar es Salaam, Tanzania was short, yet welcomed with it another place to call home. After 3 months in country, working in both academic and clinical environments, our reflections are personal, spiritual, relational, and practical. Whether it was being immersed in the vibrant culture of Tanzania, the bustle of the big city, or witnessing the sanctity of a sunrise over the Ngorongoro crater, our experiences centered us in a way that may have been very much needed. As we begin our busy semesters, the idea that Dar is no longer where I live, work, and play still has a temporality to it. As such, it seems fitting that we share our key learnings and reflections about health, nursing, equity, and the human experience: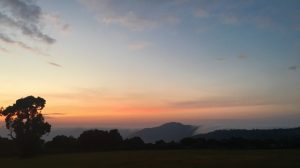 Making justice the central principle of healthcare is imperative. In particular, justice for communities or populations who are confronted with barriers that limit access to equitable healthcare services. As a health care system, who are we doing best by?
The human experience is subjective, relative, and individualized, but also universal. Loss, sadness, anger, joy, and celebration can be ways of relating to someone, despite preconceived notions or ideas about what one's experiences or definition of 'hardship'. Find common ground. Empathy is essential; you are an ally but must be humble in the little you know.
Language can be impactful, both in research and in clinical practice. The meaning and use of language varies depending on context but also provides insight into sociocultural norms and perceptions. For example, the meaning of 'danger signs' in health can encompass different meanings. Think about language in your own context or environment and critique it. What does this say about what we, as a society and as individuals, really think or feel about something? How do we define 'good health'?
QES Scholars, Rachel Ollivier and Kalkidan Gebre, enjoying their time in Tanzania this summer.
For more information about the Queen Elizabeth II Diamond Scholarships, please click here.