By: Maria Wilson Global Health Office Outreach Assistant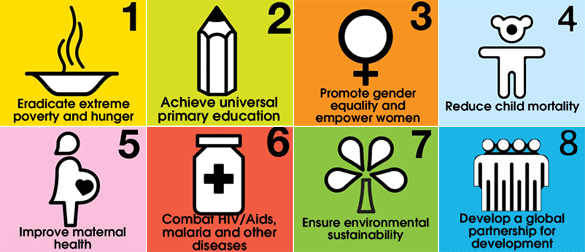 The United Nations (UN) established a set of eight Millennium Development Goals (MDGs) in 2000. The goals are as follows:
To eradicate extreme poverty and hunger
To achieve universal primary education
To promote gender equality
To reduce child mortality
To improve maternal health
To combat HIV/AIDS malaria and other diseases
To ensure environmental sustainability
To develop a global partnership for development
Each goal has a specific set of targets and technical indicators to measure progress, which can be found here if you are interested. While some targets had earlier end dates, the goals were part of a 15-year plan, set to end in 2015. Despite a commitment from all UN member states at the time, as well as multiple international organizations, the targets have not all met.
However, significant progress was made on the MDGs, and that progress should be celebrated! Below, we have highlighted one achievement under each goal contained in The 2015 Millennium Development Goals Report. The full report can be accessed here.
Goal 1: The proportion of the population in the developing world living on less than $1.25 a day has dropped from 50% in 1990 to 14% in 2015.
Goal 2: Literacy rates among youth aged 15 to 24 have increased globally from 83% in 1990 to 91% in 2015. Furthermore, the literacy gap between women and men has narrowed.
Goal 3: In Southern Asia, there are now 103 girls enrolled in primary school for every 100 boys. This is compared to 74 girls enrolled for every 100 boys in 1990.
Goal 4: The worldwide under-five mortality rate has declined by over half, from 90 deaths per 1,000 births in 1990, to 43 deaths per 1,000 births in 2015.
Goal 5: Over 71% of births globally were assisted by skilled health personnel in 2014, an increase from 59% in 1990.
Goal 6: Over 6.2 million malaria deaths were averted between 2000 and 2015, primarily in children under the age of five living in sub-Saharan Africa. Globally, the incidence rate of malaria has fallen by approximately 37%, and the mortality rate by 58%.
Goal 7: 2.6 billion people have gained access to improved drinking water since 1990. In 2015, this equated to 91% of the global population have access to an improved drinking water source.
Goal 8: Official development assistance from developed countries increased from $81 billion to $135 billion between 2000 and 2014. In real terms, this represents a 66% increase.
There is still much progress to be made on these goals, as well as in other areas. Gender inequality still persists, large gaps in health outcomes still exist between the poorest and the richest, conflict continues to threaten human development, and the health and environmental effects of climate change still need to be addressed. More importantly, we need long-term and universal solutions.
As a follow-up to the MDGs, the UN has developed 17 new Sustainable Development Goals (SDGs), which will come into effect on January 1 2016. Part 2 of this post, coming next week, will review the SDGs, and the ambitious targets they aim to meet by 2030.