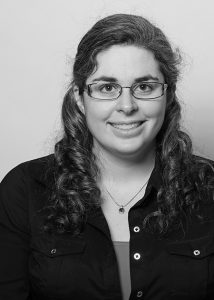 What brought you to the MLIS program at Dal?
I decided on the MLIS degree rather suddenly in the fall of the last year of my undergraduate degree. It was one of those things where I suddenly went from having no awareness of the program to hearing about it from several very different sources. I had always loved the part of my English degree that had me learning from different genres, times, and locations, and the MLIS degree seemed like the perfect way to carry forward that large area of interest.
As for Dalhousie in particular, the ocean was a major draw. I'd always wanted to come out east, so, when I decided on the MLIS degree and realized that Dalhousie had an excellent program, it seemed like the natural fit. The practicum and small class sizes were additional aspects of Dalhousie's program that I loved, since I felt that they would be crucial to me getting the most possible out of the program.
What drew you to the internship at the Dal Libraries?
I had no previous work experience at libraries, so I really wanted to get the chance to work in an actual library setting. I was able to do my practicum through Halifax Public Libraries, and thought that an internship at an academic library would allow me to experience multiple types of librarianship and the benefits and challenges that accompany them. From what the second year students had been saying I knew that the internships at Dalhousie were wonderful experiences, and, in particular, the many different faculties that Killam serves really appealed to me. I love that I get to work with such varieties of information and people.
What's your educational background?
I completed my Bachelor of Art in Honours English at the University of Guelph, Ontario.
What have you been doing during your internship?
Reference work for students, faculty, and community members is the constant task of my internship. The rest of the time I'm involved in an ever-changing docket of projects. Currently, I'm involved in the reference room refresh, which involves weeding reference material, while also working with the other Killam intern, Lindsay Warner, to help with the assessment of the Wallace McCain Learning Commons. I've also been responsible for creating a presentation explaining the details about how to use the new Dataverse platform for storing and managing research data.
Fun and interesting facts about you:
Sharpies number among my favourite things, as do turtles. This may have resulted in a series of comics and children's stories where a grumpy turtle does things like battling deadlines, playing cards with snowmen, and befriending dragons. The first thing I did during my interview for this position was greet the interviewers. The second thing was break my chair. None of my friends or family were surprised by this turn of events.