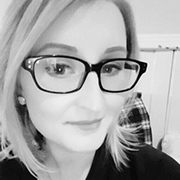 Annalise Benoit
Reference Assistant at the Sir James Dunn Law Library
What brought you to the MI program at Dal?
The opportunity to do a combined degree with the law school.
What drew you to the internship opportunity at the Dal Libraries?
I've been working with at the law library in circulation during the school year. The summer internship is a chance to get involved in more complex projects and develop reference skills.
What's your educational background?
I have a degree in History and Cultural Studies from Mount Saint Vincent University. I also have a college diploma in audio engineering and music industry arts.
What have you been doing during your internship and how has the pandemic shaped your internship?
I've been assisting with the administration of the law school's institutional repository, assisting the law school's professors in developing their faculty profiles, and helping to run our curbside pick-up. Most of this work can be done very easily from home, so in that sense, the pandemic hasn't really made much of a difference. However, I miss seeing my incredible co-workers every day!
What is your favourite summer activity? Or your favourite Halifax activity?
I love going for walks around Lake Banook in Dartmouth, hanging out at the beach, and meeting friends for a drink at the Stillwell Beergarden.