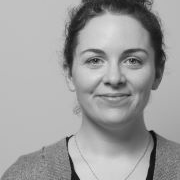 Alyssa Gallant
Library intern at the Killam Memorial Library
1. What brought you to the MI program at Dal?
I got a Master of Archival Studies at UBC in 2012 and worked as an archivist in Ontario since then, but I wanted to move back to the east coast and decided to come to Dal to get a background in librarianship.
2. What drew you to the internship opportunity at the Dal Libraries?
I have a background in archives, but have never worked in a library before, so when I heard about the internship opportunity at the Dal Libraries, I thought it would be the perfect opportunity to get familiar with that setting and put everything I was learning in my classes to good use.
3. What's your educational background?
I have a Master of Archival Studies (2012) from the University of British Columbia (UBC) and a Bachelor of Arts (2009) in History from St. Francis Xavier University (StFX).
4. What have you been doing during your internship and how has the pandemic shaped your internship?
Like everyone, I am sure this pandemic is shaping my internship in both positive and negative ways. I was very much looking forward to working with everyone in person this summer, but I am enjoying the challenge and independence of working from home. So far this summer, among a few other projects, I have begun looking for copyright licenses for films to be used in classes this fall.
5. What is your favourite summer activity? Or your favourite Halifax activity?
I like going for long drives in the summer to small towns around Nova Scotia, seeing the sites and eating at local restaurants. The Annapolis Valley is a favourite destination.