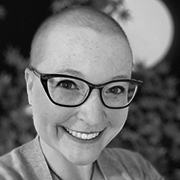 Molly Coyle
Reference Intern at the Sexton Design and Technology Library
1. What brought you to the MI program at Dal?
I was initially drawn to Dalhousie because of the university's reputation for academic excellence, but I committed to coming here when I read testimonials from alumni and current students. I was impressed by the variety of experiences available to MI students at Dalhousie and loved the overall tone of satisfaction from program participants.
2. What drew you to the internship opportunity at the Dal Libraries?
I was first drawn to the internship program at Dalhousie by the Summer Shine presentations delivered by previous interns. The projects were all unique and I could feel the passion of each intern as they discussed their work; I wanted to feel that level of connection and pride in my work as well. I also knew that I wanted to stay with a library for a longer amount of time to experience a range of tasks and responsibilities and the Dalhousie internship program was a great way to do that.
3. What's your educational background?
I attended Hope College—a little liberal arts school in Holland, Michigan—and graduated with my Bachelor of Arts in 2014. I majored in creative writing and minored in theatre.
4. What have you been doing during your internship and how has the pandemic shaped your internship?
During my internship, I have mostly helped patrons with reference questions. I have also had opportunities to contribute to a bibliography of donated materials, learn about collections development, and help update LibGuides. The good news, I suppose, is that a good deal of the work that I did during my internship already occurred online, so the transition to working at home did not disrupt too many of my regularly assigned tasks.  That being said, I desperately miss face-to-face interactions with patrons. I am a bit of an extrovert and I love being around people. Losing the ability to communicate in-person is a bummer, but I have found that email communication has been pretty fun, too.
5. What is your favourite summer activity? Or your favourite Halifax activity?
This might sound a little creepy, but I love people-watching and summer is always a great time to observe people as everyone is outside enjoying the beautiful weather. I love to write and draw comics; people-watching provides great fodder for both character design and plot development!