What with December on the horizon and panicked gift shopping just days away, we thought we'd highlight a few medical books that fall more into the "General Interest' category, as opposed to specific areas like Surgery or Cardiology. Since they're not big sellers, we tend to only keep a couple on hand at any one time, but this list might inspire other ideas, and if you're interested in a title that we've sold out, we can probably get it in a week or two (or as little as two days if they have it in the warehouse).
Most of the titles are also available through our Virtual Bookstore, and if you click on the cover images, you'll be taken to a new page to order that title, and it will ship directly from the distributor to your door. (Again, if there are none in the distributor's warehouse, they can be brought in relatively quickly, but you'll probably want to have a week or two safety margin.)
So with no further ado, and in no particular order…
Professor Desmond Leddin, of the Dalhousie Medical School, has compiled a short history of the lives of Dalhousie volunteer doctors and nurses as they served with the 7th Canadian Stationary Hospital in WWI. (They left Halifax on their way to France 100 years ago this New Year's Eve.)
The book, containing 104 pages with 50 photographs, includes information from the unit's war diary, correspondences, personal anecdotes of hospital members, and even reproductions from the scrapbook of nurse Alice Johnson. For such a slim volume, this is a surprisingly time-consuming title, as you spend long minutes pouring over each image and reminiscence.
=====================================================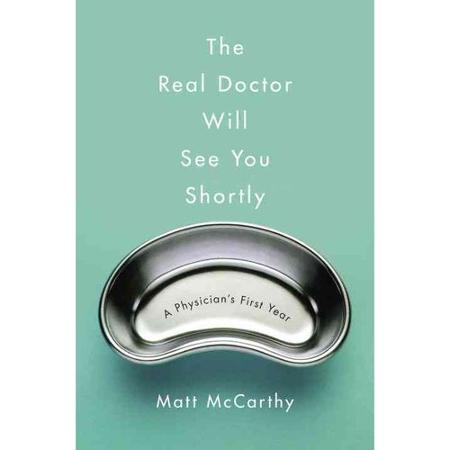 This funny, candid memoir of McCarthy's intern year at a New York hospital provides a scorchingly frank look at how doctors are made, taking readers into patients' rooms and doctors' conferences to witness a physician's journey from ineptitude to competence. McCarthy's one stroke of luck paired him with a brilliant second-year adviser he called "Baio (owing to his resemblance to the Charles in Chargestar), who proved to be a remarkable teacher with a wicked sense of humor. McCarthy would learn even more from the people he cared for, including a man named Benny, who was living in the hospital for months at a time awaiting a heart transplant. But no teacher could help McCarthy when an accident put his own health at risk, and showed him all too painfully the thin line between doctor and patient.
"Thanks to Dr. Matt's column, I know why tennis players grunt, and why five-finger shoes are for morons, and why I should have gotten a vasectomy during March Madness.  And thanks to this book, I now know how he became the kind of doctor that I feel comfortable going to with stupid drunken questions." —Drew Magary, author of The Postmortal and Someone Could Get Hurt
"Hilarious, horrifying and ultimately inspiring, The Real Doctor Will See You Shortly is a hallucinogenic trip through a doctor's first year, filled with ill-fated pin pricks, misdiagnosis, disappearing patients, life and, inevitably, death. Beautifully written and impossible to put down, here is the unvarnished look at how we create the flawed and ultimately heroic human beings who save our lives—and sometimes don't." —Steve Fainaru, co-author of League of Denial
"Everything you did—or maybe didn't—want to know about becoming a doctor. Matt McCarthy's tale of internship is equal parts entertaining, cringeworthy, and inspiring." —Danielle Ofri, MD, PhD, author of What Doctors Feel
=====================================================
Strange Medicine casts a gimlet eye on the practice of medicine through the ages that highlights the most dubious ideas, bizarre treatments, and biggest blunders. From bad science and oafish behavior to stomach-turning procedures that hurt more than helped, Strange Medicine presents strange but true facts and an honor roll of doctors, scientists, and dreamers who inadvertently turned the clock of medicine backward:
• The ancient Egyptians applied electric eels to cure gout.
• Medieval dentists burned candles in patients' mouths to kill invisible worms gnawing at their teeth.
• Renaissance physicians timed surgical procedures according to the position of the stars, and instructed epileptics to collect fresh blood from the newly beheaded.
• Dr. Walter Freeman, the world's foremost practitioner of lobotomies, practiced his craft while traveling on family camping trips, cramming the back of the station wagon with kids—and surgical tools—then hammering ice picks into the eye sockets of his patients in between hikes in the woods.
Strange Medicine is an illuminating panorama of medical history as you've never seen it before.
=====================================================
The Man Who Touched His Own Heart tells the raucous, gory, mesmerizing story of the heart, from the first "explorers" who dug up cadavers and plumbed their hearts' chambers, through the first heart surgeries-which had to be completed in three minutes before death arrived-to heart transplants and the latest medical efforts to prolong our hearts' lives, almost defying nature in the process.
Thought of as the seat of our soul, then as a mysteriously animated object, the heart is still more a mystery than it is understood. Why do most animals only get one billion beats? (And how did modern humans get to over two billion-effectively letting us live out two lives?) Why are sufferers of gingivitis more likely to have heart attacks? Why do we often undergo expensive procedures when cheaper ones are just as effective? What do Da Vinci, Mary Shelley, and contemporary Egyptian archaeologists have in common? And what does it really feel like to touch your own heart, or to have someone else's beating inside your chest?
Rob Dunn's fascinating history of our hearts brings us deep inside the science, history, and stories of the four chambers we depend on most.
=====================================================
The riveting history of tuberculosis, the world's most lethal disease, the two men whose lives it tragically intertwined, and the birth of medical science.
In 1875, tuberculosis was the deadliest disease in the world, accountable for a third of all deaths. A diagnosis of TB—often called consumption—was a death sentence. Then, in a triumph of medical science, a German doctor named Robert Koch deployed an unprecedented scientific rigor to discover the bacteria that caused TB. Koch soon embarked on a remedy—a remedy that would be his undoing.
When Koch announced his cure for consumption, Arthur Conan Doyle, then a small-town doctor in England and sometime writer, went to Berlin to cover the event. Touring the ward of reportedly cured patients, he was horrified. Koch's "remedy" was either sloppy science or outright fraud.
But to a world desperate for relief, Koch's remedy wasn't so easily dismissed. As Europe's consumptives descended upon Berlin, Koch urgently tried to prove his case. Conan Doyle, meanwhile, returned to England determined to abandon medicine in favor of writing. In particular, he turned to a character inspired by the very scientific methods that Koch had formulated: Sherlock Holmes.
Capturing the moment when mystery and magic began to yield to science, The Remedy chronicles the stunning story of how the germ theory of disease became a true fact, how two men of ambition were emboldened to reach for something more, and how scientific discoveries evolve into social truths.
=====================================================
From surgeon and bestselling author Atul Gawande, a book that has the potential to change medicine—and lives.
Medicine has triumphed in modern times, transforming the dangers of childbirth, injury, and disease from harrowing to manageable. But when it comes to the inescapable realities of aging and death, what medicine can do often runs counter to what it should.
Through eye-opening research and gripping stories of his own patients and family, Gawande reveals the suffering this dynamic has produced. Nursing homes, devoted above all to safety, battle with residents over the food they are allowed to eat and the choices they are allowed to make. Doctors, uncomfortable discussing patients' anxieties about death, fall back on false hopes and treatments that are actually shortening lives instead of improving them. And families go along with all of it.
In his bestselling books, Atul Gawande, a practicing surgeon, has fearlessly revealed the struggles of his profession. Now he examines its ultimate limitations and failures—in his own practices as well as others'—as life draws to a close. And he discovers how we can do better. He follows a hospice nurse on her rounds, a geriatrician in his clinic, and reformers turning nursing homes upside down. He finds people who show us how to have the hard conversations and how to ensure we never sacrifice what people really care about.
Riveting, honest, and humane, Being Mortal shows that the ultimate goal is not a good death but a good life—all the way to the very end.
=====================================================
In a book as eye-opening as it is riveting, practicing nurse and New York Times columnist Theresa Brown invites us to experience not just a day in the life of a nurse but all the life that happens in just one day on a hospital's cancer ward. In the span of twelve hours, lives can be lost, life-altering medical treatment decisions made, and dreams fulfilled or irrevocably stolen. In Brown's skilled hands–as both a dedicated nurse and an insightful chronicler of events–we are given an unprecedented view into the individual struggles as well as the larger truths about medicine in this country, and by shift's end, we have witnessed something profound about hope and healing and humanity.
Every day, Theresa Brown holds patients' lives in her hands. On this day there are four. There is Mr. Hampton, a patient with lymphoma to whom Brown is charged with administering a powerful drug that could cure him–or kill him; Sheila, who may have been dangerously misdiagnosed; Candace, a returning patient who arrives (perhaps advisedly) with her own disinfectant wipes, cleansing rituals, and demands; and Dorothy, who after six weeks in the hospital may finally go home. Prioritizing and ministering to their needs takes the kind of skill, sensitivity, and, yes, humor that enable a nurse to be a patient's most ardent advocate in a medical system marked by heartbreaking dysfunction as well as miraculous success.