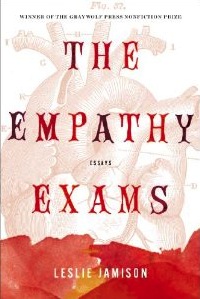 At some point in their education, medical students have to take the book learnin' and apply it to real interactions with real people, but not necessarily real patients – at least at first.
Medical Actors play the part of patients with a defined set of symptoms and reactions, to test the student's ability to ask the right questions and make the right diagnosis, as well as (one hopes) hone their skills in listening and empathy. (In many cases, giving a patient very bad news will be part of the encounter.)
In April, author Leslie Jamison will be releasing "The Empathy Exams," a wide ranging series of essays on the subject of compassion, but you can read her first-hand account as a Medical Actor right now in this piece at Believer magazine
And in an example of medical acting saving a real life, CBC Radio has a 9-minute feature about a student who diagnosed a real life-threatening condition in his fake patient last March. (Talk about extra credit…)
If you'd like to pre-order a copy of the "Empathy Exams," just follow this link.