Next week (May 6-12) marks the annual and international recognition of all the followers of Florence (in fact the timing of the week is linked to Florence Nightingale's birthday on May 12th of 1820), and in recognition of the celebration, we thought we'd add a few links to our collection.
First and foremost of course, is the Canadian Nurses Association, with information about nursing careers, professional development, and current events.
But if you're more interested in past than current events, The Canadian Museum of Civilization has an extensive collection of artifacts and documents available online, and offers such specific presentations as, Symbol of a Profession: One Hundred Years of Nurses' Caps – tracing the evolution of the symbolic head gear from the nun's coif to the present bare head.
Closer to home, the Nursing History Digitization Project,  developed and maintained by Mount Saint Vincent University, offers a history of nursing training in Nova Scotia. (Including school-specific details. Believe it or not, there have been 25 teaching locations over the years.) In addition to text, stories are told through photos, audio interviews, and such archival glimpses into the past as a 1956 brochure for prospective applicants to the Victoria General Hospital School of Nursing, a 1938 list of student regulations from the Halifax Infirmary, and a slightly more tongue-in-cheek list of Student Nurse's Commandments from 1950. ("…thou shalt not in the Residence partake of the company of Lady Nicotine.")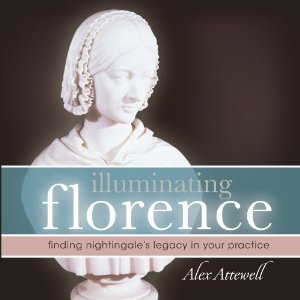 Finally, in terms of reading materials, as an alternative to the standard reference works, Illuminating Florence (available on-line and in store), shows how constant the core goals of the nursing profession have remained over 150 years – as excerpts from her writings are connected to current practices.