We've all grown familiar with the concept of medical advice that shifts over time or through changing contexts. Coffee isn't good for you, then it is. Fruit is a healthy snack, but then it isn't because the acids rot your teeth and the sugars make your insulin spike. Or as was recently reported on consecutive days on a cable news network, red meat increases your risk of cancer / steak and eggs are a great daily breakfast choice.
So while there may always be a trace of doubt in a fair percentage of current medical advice, there are some practices from the past that we can be -almost- certain would be a bad idea today.
Our first collection of 'contraindicated' products comes from the blog, BuzzFeed, with its collection of, "12 Things Enhanced With Radiation." These little bits of history include radioactive drinking water, skin cream, and, uhmm, suppositories, and while not medically relevant, there are also a pair of YouTube videos about the Boy Scout who earned his "Atomic Energy" badge by building a Nuclear Reactor in his family's garden shed.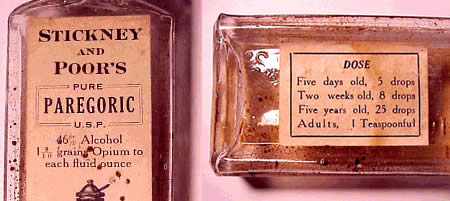 Meanwhile, over at the blog i09, "When Opium Was For Newborns And Bayer Sold Heroin," the site has a brief look such products as "Stickney and Poor's Pure Paregoric syrup (which) had forty-six percent alcohol, one and three-sixteenth 'grains of opium per ounce,' and contained a dosage chart that included five-day-old infants," and then moves beyond the purely medicinal with a 19th century brand of Italian Wine with a special kick and a Papal endorsement.
The field of medicine is and always will be filled with mysteries and debates, but at least it's nice to know that we've moved beyond radioactive suppositories. (At least for now.)