The Archives and Special Collections has been working closely with the Ecology Action Centre since last year's donation of the organization's historical records and reference library.  We've been busy getting the materials described so they can be accessed in our Reading Room.  We now have a print finding aid that is available on-site.
We hope to have the full finding aid online later this year, but in the meantime, we are also digitizing some of the organization's key records and publications.  Ryan Dyck, a Practicum Student from the School of Information Management, has been scanning annual reports, general meeting minutes, and back issues of the EAC's primary publication, Between the Issues. 
Ryan has been posting the digitized material in DalSpace, the university's institutional repository.   Right now, the collection contains some recent issues of Between the Issues, annual reports, and minutes of some of the organization's earliest annual meetings.  While modest in size (for now!), the collection provides a window into the development and growth of one of Canada's foremost environmental advocacy groups.
We're also excited about some tests we've been doing with World Cat Local.  Ecology Action Centre materials in DalSpace can now be found in the Library Catalogue.  Try a search for Between the Issues  and use the "Downloadable Archival Material" filter on the left side of the catalogue: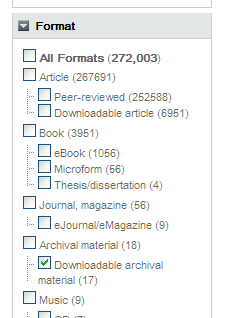 If you're only searching materials at the Killam Library, this will narrow your results to full-text, downloadable back issues from DalSpace.  The link to view and download the issue can be found in the full item record: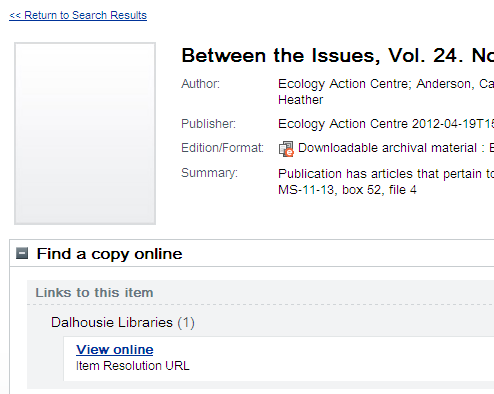 We have some kinks to work out, but keep an eye out for more downloadable archival material – from the EAC and other archival collections – in the months to come!