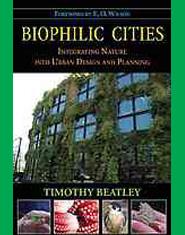 A biophilic city is more than simply a biodiverse city, says author and "urban greening" advocate Timothy Beatley. It is a place that learns from nature and emulates natural systems, incorporates natural forms and images into its buildings and cityscapes, and designs and plans in conjunction with nature.
Biophilic Cities: Integrating Natureinto Urban Design and Planning (Island Press, 2011) outlines the essential elements of a biophilic city, and provides vivid examples and stories about cities that have successfully integrated biophilic elements–from the building to the regional level – around the world.
This ebook is available for Dal users only. Read it now!