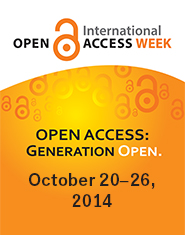 Open Access Week, a global event now entering its eighth year, is an opportunity for the academics and researchers to continue to learn about the potential benefits of open access, to share what they've learned with colleagues, and to help inspire wider participation in helping to make open access a new norm in scholarship and research. (from the Open Access Week website)
This week, the Dalhousie Libraries will be doing a blog post a day on different topics related to open access, as well as hosting two events. 
Why is Open Access important on university campuses?
Scholarly publishing is broken in a simple but fundamental way and that's what's at the heart of the push towards open access publishing. The reason scholars publish is to communicate with each other and with students. That's the primary goal. There are certainly other short term objectives such as tenure and promotion but in the larger context, scholars publish in order to communicate.
Since the late 1960s, commercial academic publishers have diluted the goals of scholarly communication. Commercial publishers don't just want people to read the content, they want people to purchase it so the publisher can turn a profit. By limiting access, these publishers protect their financial interests in the works of scholars and are able to charge a fee for people to read.
One of the things that makes this all possible is that publishers require authors to transfer their copyrights to the publisher. Possession of the copyright allows publishers to control distribution of scholarly work and is thereby directly connected to the ability to turn a profit.
The open access publishing movement removes the toll on readers and this has resulted in a renewed interest in author rights management. When content is made freely available for all to read, there is little or no need for publishers to require that authors transfer their copyright to the publisher. In fact, in the context of scholarly communications, it makes a lot more sense for scholars to retain copyright of open access published works and to make more nuanced declarations around acceptable use and re-use of their works. This is the reason behind the Creative Commons rights management framework.
Creative Commons (CC) is perfect for scholars in that it assumes, as a starting point, that content creators wish to have their ideas as widely distributed as possible and re-used with attribution. This is fundamental to all areas of scholarship—new knowledge is created when scholars build on the ideas of those that preceded them and use copies of other scholars' research outputs in their own teaching and research.
For academic authors that wish to use (CC) licensing there are a suite of 6 licenses http://creativecommons.org/licenses/ designed to meet individual needs and circumstances.
The Dalhousie Libraries will be hosting two events for Open Access Week:
Differing Perspectives on Open Access: a panel discussion
Thursday, October 23/4–5:30 p.m.
Room 224, Student Union Building

Open Access at MIT Press: OA in a large university press
Friday, October 24/1 p.m.
Room 2616, Killam Memorial Library