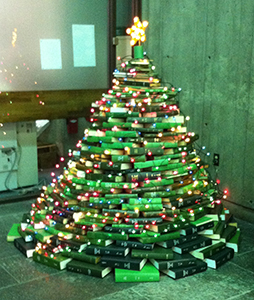 This December, we decided to bring a little festive cheer to the grey lobby of the Killam Memorial Library by building a holiday tree out of old bound journals which had previously been withdrawn from the collection. Since then, we've had questions about how we decide to remove (or "weed") items from the collection, a necessary practice in every library but not one that any librarian undertakes lightly.
The bound journal volumes we used to build the tree in the Killam lobby were originally withdrawn from the Novanet catalogue and moved into basement storage seven years ago when the library underwent an A to Z move. To improve access and simplify the Killam Library's physical organization, thousands of volumes were shifted so that books and journals could be arranged in call number order instead of having the science and humanities collections stored on different floors. At that time, some of our librarians identified runs of journals that were duplicated by electronic versions on stable platforms such as JSTOR and in archival packages purchased to provide perpetual access to the content. We created room for new purchases by moving duplicated content into storage.
Before the journals went into storage, they were offered to faculty and members of the local community. Volumes people expressed an interest in were set aside for them to pick up, but many of these bound journals remained with us. Since 2007–2008, the Dal Libraries, in consultation with Dal's Office of Sustainability, have explored environmentally sound ways of handling the remainder of these now unwanted volumes. Some were used to insulate the Blockhouse School on the South Shore. theblockhouseschool.org
Our basement storage is currently full with a combination of withdrawn materials and holdings we want to keep. We have no offsite storage facilities to store extra volumes. We are working with our Novanet partners to explore the development of an off-site repository, similar to the Downsview Repository operated by the University of Toronto: http://onesearch.library.utoronto.ca/downsview  Even if we do develop a repository, there will only be room for material which is unique, worth preserving, and not available electronically.
As part of this summer's move of the Music collection to the first floor of the Killam, we have shifted some items into the basement including government documents, some microfilm, all microfiche and microcards, and some print indices. As well, the basement storage contains rarely used print journals that are not available electronically: these can be retrieved by placing a request at the Killam Library Service Point. In anticipation of the upcoming move of the Kellogg Health Sciences Library, some older health sciences materials are also stored in the Killam's basement.
Periodically, we are asked why we haven't donated these bound journals to organizations that collect books for countries or regions in need. Our old bound journals used to build the book tree do not meet the criteria of what many of these organizations need. It costs 50 cents to ship just one book to Africa, so these organizations must be specific about what they can accept. For example, the organization Books for Africa lists the following criteria for acceptable donated items:
popular fiction and nonfiction reading books (soft and hard cover).
books that are 15 years old or newer.
primary, secondary, and college textbooks (soft and hard cover) with a 1998 or newer publish date.
reference books such as encyclopedias and dictionaries published in 2003 or later.
medical, nursing, IT, and law books with a 1998 or newer publish date.
some Bibles or religious books, please place them in a box separate from other donations and mark the box as "Religious texts." Bibles are sent only when requested by African recipients.
Source: https://www.booksforafrica.org/donate/donate-books.html
While the Dal Libraries no longer need the particular volumes we used in our book tree, we would be happy to see them go to new homes if people want them. Community members are welcome to join us on January 5 to help take down the tree and redistribute the volumes (the books themselves weren't harmed in the building of the tree, they have simply been stacked on top of one another). If no one is interested in these volumes, we will pack them up again and save them to build another tree next year.
For more information about how and why libraries weed their collections, blogger Joe Hardenbrook, who regularly blogs about libraries, technology, and teaching, has an excellent list on his Mr. Library Dude blog. Mr. Hardenbrook works as a reference and instruction librarian at Carroll University in Waukesha, Wisconsin where he manages reference and instructional services, teaches information literacy sessions, and serves as a liaison to the education, psychology, and diversity programs. Here's what he has to say about why academic libraries weed:
Why Do We Weed?
To remove books that are not being used
To remove books with outdated or obsolete information/philosophies (that have no historical use)
To identify books that are damaged or in poor condition
To identify gaps in the collection and make new purchases
To align the collection with the university's goals, mission, and curriculum
Limited space for the collection
It boils down to this: Weeding is simply the selection process in reverse. Librarians, using their knowledge, institutional interests, and professional tools, decide which books to purchase. We use that same skill set to decide what books to withdraw.
Libraries are Not Warehouses
For most academic libraries, our mission is not to collect the whole of human knowledge. We have limited space, limited resources. We are not a warehouse for books–a warehouse is a storage facility. Books are for using–not for sitting on a shelf for years on end.
Source: http://mrlibrarydude.wordpress.com/2014/03/12/why-we-weed-book-deselection-in-academic-libraries/
Finally, for more information on the subject of weeding, here are some excellent links on the topic:
http://www.ala.org/tools/libfactsheets/alalibraryfactsheet15
https://www.tsl.texas.gov/sites/default/files/public/tslac/ld/pubs/crew/crewmethod08.pdf
http://www.sustainablecollections.com/deselection-kb/#discards