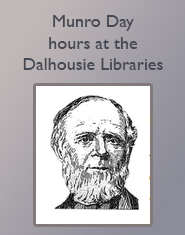 Munro Day is a Dalhousie holiday, observed this year on Friday, February 3. The libraries and libraries' learning commons will be open that day, but running on holiday hours. Consult this list before you head to the library.
Kellogg Health Sciences Library (Tupper)
1–4 p.m.
Kellogg Library Learning Commons (CHEB)
10 a.m.–6:30 p.m.
Killam Memorial Library
1–9 p.m.
MacRae Library
1–6 p.m.
Sexton Design & Technology Library
10 a.m.–6 p.m.

Sir James Dunn Law Library
9 a.m.–4 p.m.
Wallace McCain Learning Commons
1:30 p.m.–8:30 p.m.