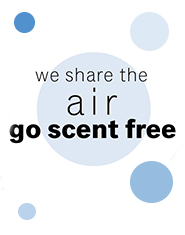 The Dalhousie Libraries Health & Wellness Committee  are launching a scent free campaign for the Libraries. The purpose of this campaign is to educate staff and library users about the harmful effects of scented products on individuals with scent sensitivities.
The University supports the many students and employees who report that they are harmed when they are exposed to scents which are present in many scented personal care products. Scents in perfume, cologne, hairspray, aftershave, and even some soap and fabric softeners cause serious illness in people who are sensitive to these chemicals. To provide an environment which supports teaching and learning, Dalhousie asks students, staff, faculty, and visitors to refrain from using such scented products while at the University.
Please note that scent free at Dalhousie is a program, not a policy. The fundamental difference between a program and a policy is that a program is meant to educate people about something whereas a policy must be followed. For example, no smoking is a policy that must be followed and enforced while scent free is a program that educates people about potential illnesses and sensitivities regarding soaps, deodorants, etc. to fellow staff, faculty, and students.
New posters reminding people to refrain from wearing and using scented products will be posted in the libraries. New educational bookmarks will also be placed in books at the time of checkout at the Service Point in each library.
For more information about the scent free program at Dalhousie and for advice on how to handle scent sensitive situations, check out: http://www.dal.ca/dept/safety/programs-services/occupational-safety/scent-free.html
We appreciate your assistance in keeping the Dalhousie Libraries and Dalhousie, scent free.