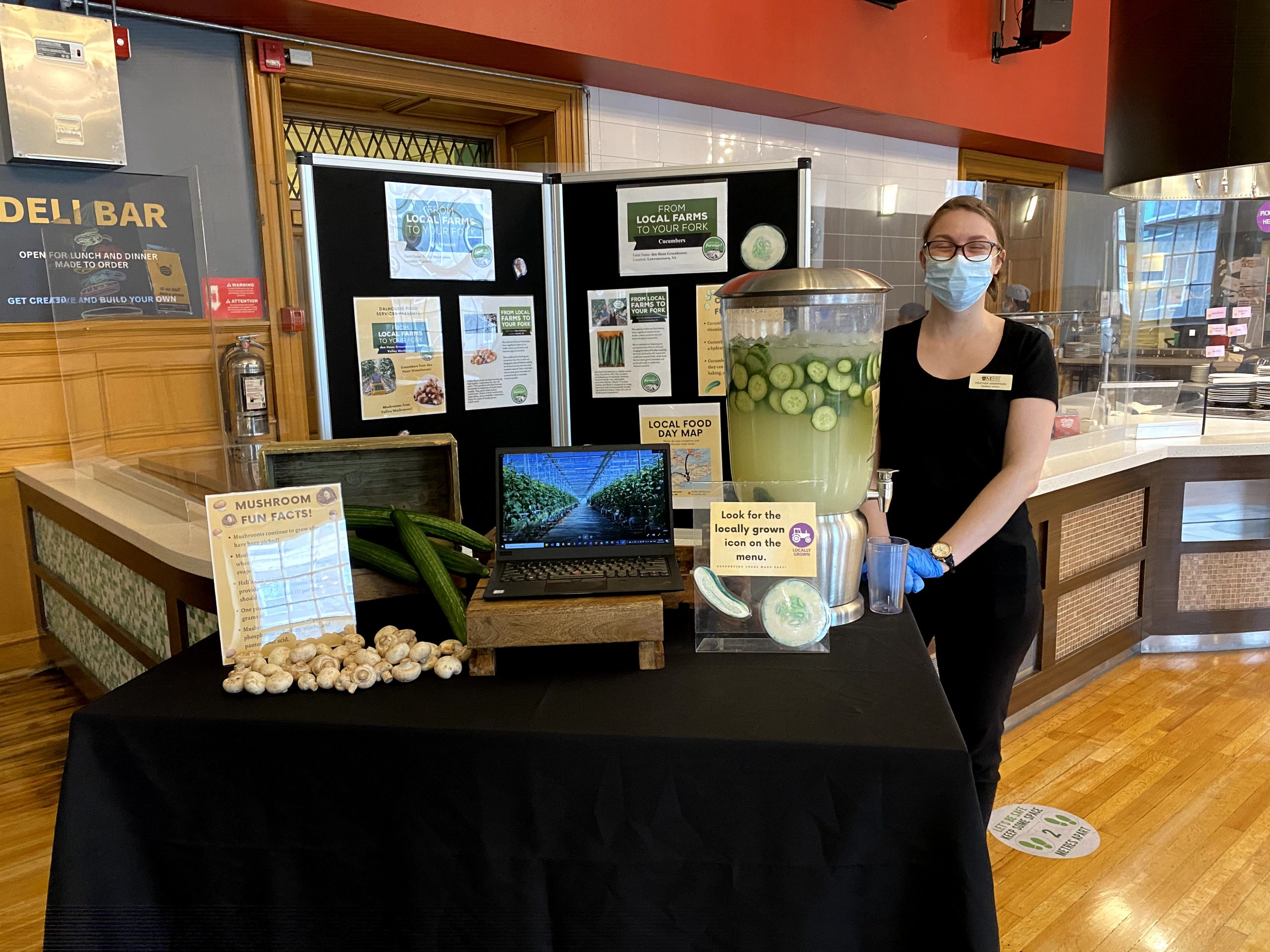 It's our priority to provide students with and introduce them to the local food on their plates. In March, our second Local Food Day of the semester celebrated two local Atlantic farms, den Haan Greenhouses and Valley Mushrooms, who we source produce from year-round.
Cucumbers
Cucumbers in the dining hall mainly come from den Haan Greenhouses – they are located in Lawrencetown, NS. Special cucumber dishes that we served up for this event were: Ham and Cucumber Pizza, Cucumber Salad, and Cucumber Bread – yum!
Watch our Local Food Day video to learn more about den Haan Greenhouses and their growing and harvesting practices!
Mushrooms
Mushrooms in the dining hall mostly come from Valley Mushrooms – they are located in Hartsville, PEI. For this event, featured mushroom dishes on the menu included: Beef and Mushroom Dip, Mushroom Stroganoff, Buffalo Stuffed Mushrooms, and a Cream of Mushroom Soup! Read our Local Food Day Q&A segment below to learn more about Valley Mushrooms, their growing and harvesting practices, farming techniques, and sustainability measures.
Valley Mushrooms Q&A
Q: How and when was Valley Mushrooms founded in P.E.I?
A: We are actually new owners of Valley Mushrooms and took over the farm in November of 2020. It had been shut down since early 2020 due to COVID. The farm was built in 2012 but switched operators around 2015/2016.
Q: What are the growing and harvesting practices like?
A: The Valley Mushrooms facility is a multi-building, state of the art, process-driven agriculture facility designed to create ideal growing conditions contained entirely indoors. There are ten separate growing rooms (kind of like greenhouses), each of which can be separately climate controlled. We utilize 4 different buildings containing almost 50,000 sq. ft. to go through all of our processes to provide fresh, delicious mushrooms to our customers.
We start by making our own compost to grow our mushrooms in at the compost building. Our compost is made up of a mixture of horse manure, poultry manure, wheat straw and gypsum. The compost process takes approximately 25 days.
Once the compost process is complete, the compost is put into our pasteurization tunnel for 10 days to pasteurize.
Once pasteurized, the compost is seeded with mushroom spawn and placed in bags for growing in growing rooms (currently one full pasteurization tunnel can provide approx. 1,000 bags in 2 different growing rooms). We are in the process right now of switching from growing mushrooms in bags to growing them in trays. Growing mushrooms in bags is an incredibly common practice but limits our ability to increase production and moving to a tray and shelf system allows us to utilize our facility much more efficiently.
After the rooms have compost bags in them, our grower controls the room temperature and moisture content of the compost to optimize the growing conditions for our mushrooms.
11-16 days after a room is filled with bags of compost, the bags are "cased"- meaning they are topped with a mixture of peat moss and lime. At this time, we also add some casing seed to help move the growing process along.
Approximately 17 days after the bags are cased, our first "break" of mushrooms will be ready for picking. Each room will have 3-4 breaks (breaks meaning a full pick of the room, each will last approximately 4-5 days before slowing down and then another will come a few days later).
All of our mushrooms are harvested by hand. Since mushrooms double in size every 24 hours while they are growing this is a significant task to tackle each day. We keep our rooms in a specific rotation so that on any given day there should only be 3-4 rooms that need to be harvested at once.
Approximately 8 weeks after a room is filled with the compost from the pasteurization tunnel, they are emptied, cleaned and sanitized and the process starts again for that room.
Q: Do the growing and harvesting practices differ between the types of mushrooms you grow?
A: Nope! The only difference is the seeds. We grow white button mushrooms, criminis, baby bellas and portobello mushrooms. However, baby bellas and portobello mushrooms are actually just larger versions of criminis (same seeds, though). Each grow room has a specific amount of brown mushrooms (criminis, baby bellas and portobellos) in it, but the majority of the room is allotted for white button mushrooms.
Q: Are any special farming techniques used on the farm? (crop rotation, technology, etc.) 
A: Since all of our growing is done inside and we have complete control over the temperature and levels in the rooms, we use a significant amount of technology at the farm.
Q: What does sustainability look like at Valley Mushrooms?  
A: Valley mushrooms takes manure and straw to make the perfect growing medium for mushrooms. Once the mushrooms have taken the relevant nutrients out of the soil, the remaining biproduct, referred to as spent mushroom substrate, or more commonly as mushroom compost, is incredibly valuable to gardeners and farmers alike. The nutrients remaining in the compost is nature's ideal recipe for plant health for a variety of plants and other crops. Because of this, we produce minimal waste and get to use our spent compost as an additional product offering.
Thank you to den Hann Greenhouses and Valley Mushrooms for growing and producing delicious cucumbers and mushrooms and providing our dining halls with fresh local produce year-round!