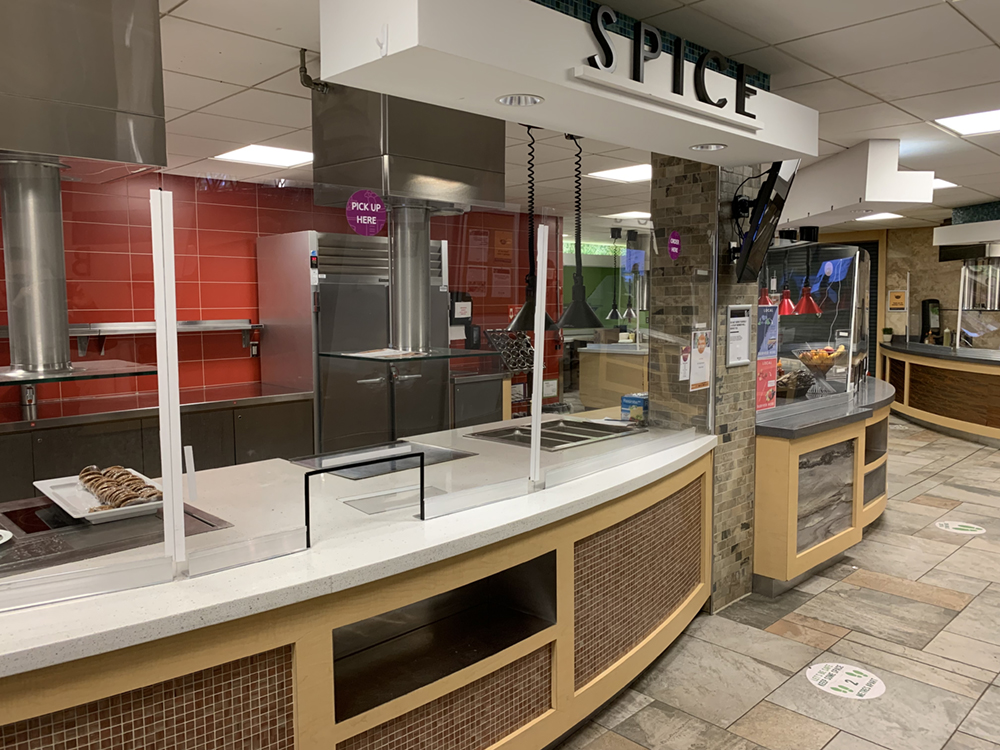 Health Guidelines around public spaces, especially those that serve food, have continued to shift dramatically over the course of the pandemic as knowledge, capacity, and epidemiology has changed.  With that have also come a variety of other volatile changes to labour, food supply chain, and many other aspects of society and economy. We continue to work hard to adapt our service style to provide a safe and satisfying dining experience throughout the school year.
Maintaining Safety Standards:
We are currently maintaining the majority of the same heightened safety protocols we had in place during the 2020-2021 school year in food services and are adapting carefully as recommendations change.
Fully served style in the dining halls (no self serve buffets)
We are maintaining high frequency sanitization and disinfection standards
We are maintaining the green/red table flip cards so students can feel confident that they are always sitting to eat at a clean table
We are maintaining masking standards and health checks for all staff daily
Hand sanitizer readily available
We are currently maintaining dining hall "bubbles"- so meal plan holders will only have access to a single designated dining hall
Seating capacity is still limited in the halls
What is creating unique challenges this year?
There are a lot more students living in residence this year and a lot more staff to support you. That means hundreds of new students and staff in the dining halls all at once, learning where to find things and developing routines and speed of service. Please be patient as we train and adjust to the higher population!
Food Supply Chain disruptions continue to be a challenge we are dealing with through our suppliers, vendors, and local partners. Items that we could always count on are now intermittently available or long wait time special order status. We are working diligently to resolve these issues or find alternatives that meet our needs moving forward.
The pandemic has drastically impacted the food service sector and has resulted in a critical labour shortage of key roles. We are offering competitive packages and benefits and are hiring and training as quickly as possible to be able to give you top notch service and selection.
Because of the current staff shortages, we are choosing to invest in more disposables and single serve condiments temporarily to help with speed of service and convenience until everyone settles into their new routines and can handle full china service maintenance again. We will return to reusable dishware and utensils as soon as we are able to.
What can we expect to change as the term moves on?
Nova Scotia reaching Phase 5 will mean some return to normalcy in lots of spaces. The dining halls will continue to maintain and adjust service standards as advised by community health experts in Nova Scotia, and this may be different from the general public guidelines and those for other food establishments in the province due to unique variables of our Dalhousie community
You can expect speed of service to increase and wait times to decrease
You can expect a shift back towards reusable dishes and cutlery as soon as possible, as well as shifting away from single packaged items
You can expect more variety and customization options
You can expect to see more fun theme events and food feature pop ups peppered throughout every month of the year
We have new wonderful people starting with us to grow our team to better support you as the Dalhousie community moves back in again. Click here to meet your new dietitian, Rachel Tanner! You will see her all over the dining halls in the coming weeks- so make sure to say hi!
You can expect to see lots of engagement opportunities in person, online, and through social media so you can impact what is on the menu – and if you haven't already, follow us on @dalfood for the quickest updates on what is happening and what is to come so you can make the most of your Dal Food experience
Tips for our Diners:
We ask that you never refill a glass, but take a new cup every time you go to the station. Do not bring your own reusable mugs at this time. We will let you know when the reusable mug programs relaunch.
Flip your table card to red when you finish at a table
Please take the time to sort your waste appropriately. Signs are up to help you sort or you can ask a staff member if unsure. Dalhousie team members spend endless hours resorting garbage, recycling, and organic materials.
Respect each others space
Wear a mask when moving around the dining hall
Follow us @Dalfood for the latest on events and more in the dining halls
Give feedback on your experience and preferences using our digital NapkinTalk platform in the moment, or live in person on Tuesdays at lunchtime during TableTalk Tuesdays (run by our engagement team). We make changes to menu and service based on your input!