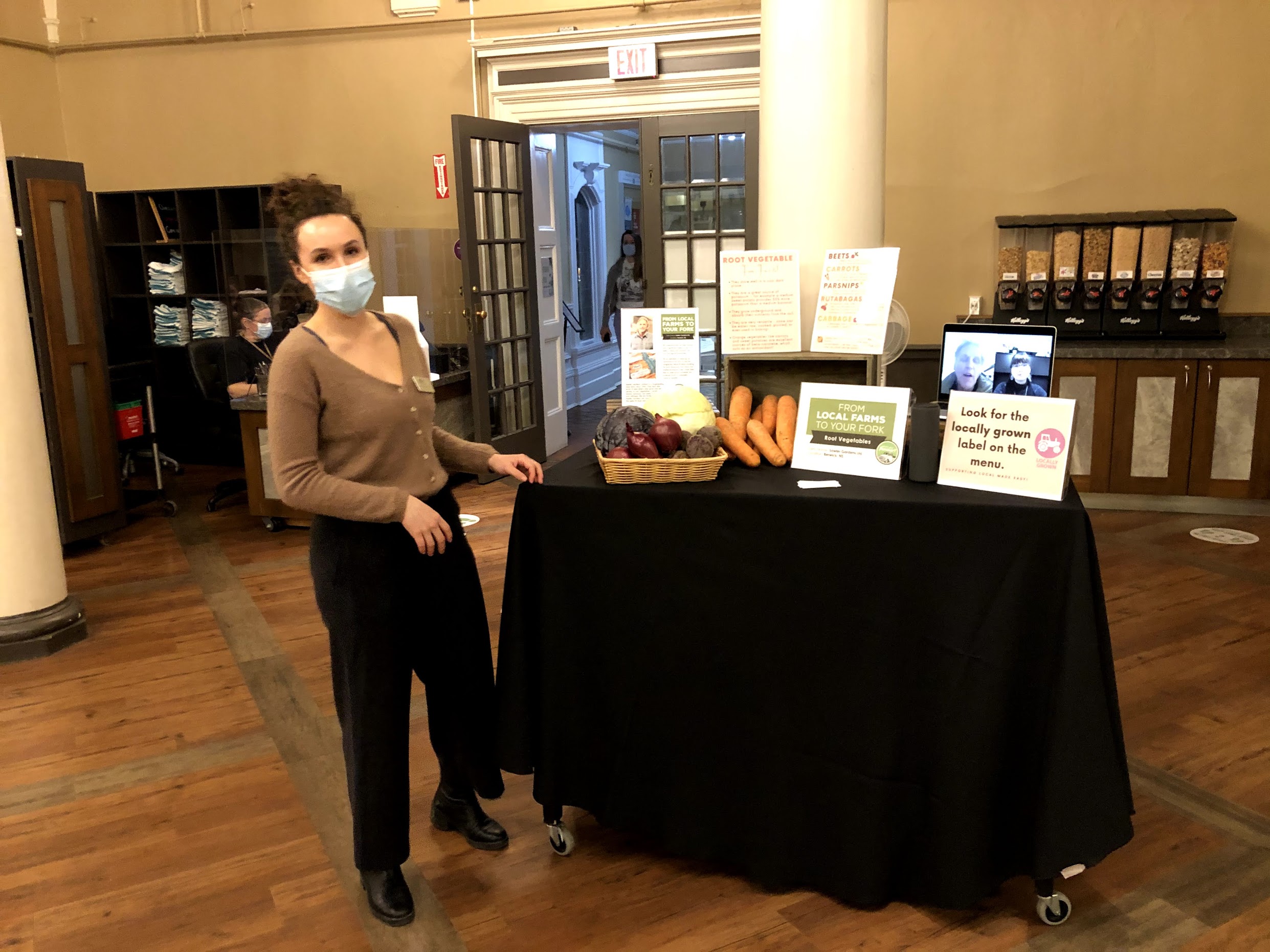 A year has passed since we welcomed Mark Sawler from Sawler Gardens Ltd. in the dining halls to teach us about carrots and their farming practices. As we source various other root vegetables from Mark's farm as well (whenever they are in season), Mark re-joined us virtually to talk all things root vegetables.
Watch the virtual interview between our on-campus dietitian Rai-Lee and proud local farmer Mark to learn more about the root vegetables, such as carrots, beets, parsnips, rutabagas, and onions, grown at Sawler Gardens Ltd., which make it to your plates in the dining halls.
Did you get a chance to taste these nutritious local vegetables that were featured throughout the menus at both Howe Hall and Shirreff Hall for dinner on February 25? Let us know what your favourite dish was or what "did you know" fun fact you were surprised to learn in the comments below.
Root Vegetable Fun Facts:
They store well in a cool dark place.
They are a great source of potassium – for example a medium sweet potato provides 30% more potassium than a medium banana!
They grow underground and absorb their nutrients from the soil.
They are very versatile – some can be eaten raw, cooked, pickled, or even used in baking!
Orange vegetables like carrots are excellent sources of beta-carotene, which acts as an antioxidant!
Beets – Beets are known for their nitrate content, which may enhance athletic performance!
Carrots – Carrots grow in five different colours – orange, yellow, purple, red, and white – each colour provides differing health benefits!
Parsnips – Parsnips are a good source of dietary fibre, folate, potassium, and vitamin C.
Rutabagas – Rutabagas are often confused as a turnip – they are related but not actually the same! They are a great source of fibre, vitamin C, potassium, magnesium, and calcium.
Onions – Onions provide vitamin C, vitamin B6, folate, potassium, manganese, and antioxidants – let the happy tears flow next time you slice into an onion!
Cabbage – Cabbages are a cruciferous vegetable (not a root vegetable) high in vitamin C and K.
Local Food Day: Root Vegetables
Local Food Day: Root Vegetables