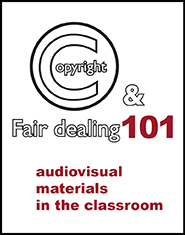 Copying Audiovisual Works
Under the fair dealing guidelines, Dalhousie faculty and staff may make a copy of up to 10% of a copyright-protected audiovisual work and distribute the short excerpts (see Fair Dealing Guidelines, section four) for research, private study and educational purposes, among other purposes, subject to the safeguards discussed below.
Acceptable methods of distribution include inclusion in a classroom presentation or in an learning management system (LMS), and emailing the excerpt to students.
Audiovisual works include motion picture films, television programs, and videos in any format or on any medium.
Safeguards
Copies of short excerpts of audiovisual work are only to be provided or distributed to:
• students enrolled in a course of study;
• to other Dalhousie faculty members and administrative staff of the university; and/or
• to faculty members or students at another university with whom the faculty member is engaged in collaborative research
Performing Audiovisual Works
(a) Performance to students, at Dalhousie premises, for educational or training purposes
The fair dealing guidelines do not apply to the public performance of an audiovisual work. However, Dalhousie faculty and staff can rely on the exception in section 29.5(d) of the Copyright Act, which permits Dalhousie faculty and staff to perform an audiovisual work:
• before an audience consisting primarily of students, instructors or any person who is directly responsible for setting curriculum at Dalhousie;
• on Dalhousie premises;
• for educational or training purposes; and
• the copy of the work being performed is not an infringing copy or the person responsible for the performance must have no reasonable grounds to believe that it is an infringing copy.
Please note: this exception does not permit the copying of any part of an audiovisual work, even if it is necessary to copy the work in order to perform it.
(b) The Exception for Works Available through the Internet
Section 30.04 of the Copyright Act permits reproducing, communicating and performing in public by an educational institution or a person acting under its authority, for educational or training purposes of a Work that is made available through the Internet. This includes an audiovisual work posted to the Internet (e.g., a video posted on YouTube).
These materials are adapted from materials developed and owned by The University of British Columbia (the "UBC Materials"), and are used with consent of The University of British Columbia ("UBC").  They are provided for informational purposes only and should not be relied upon as legal advice. UBC takes no responsibility or liability for any use of these materials, or the UBC Materials, including any changes or modifications made to the UBC Materials.