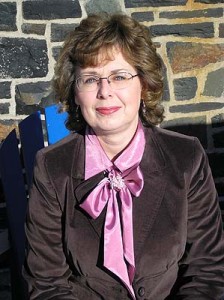 by Michelle Paon
After 38 years with the Dal Libraries, Karen  Chandler is retiring.
Karen's career at Dalhousie began in August 1981 when she accepted a Clerk-Typist position in the Killam Library's Circulation Department. In January 1984, she was promoted to Head of Reserve. By December 1991, Karen had advanced to become the Head of the Serials & Microform Department (later known as the Serials Unit).
In December 2013, Karen was promoted to the position of Manager, System-Wide Resources, a role in which she skillfully negotiates vendor licenses for direct subscriptions to electronic resources & databases and shepherds the subscription renewals of a vast array of consortially-purchased products.
Proficient in dealing with financials, Karen forecasts expenditures and calculates variances that are crucial in preparing Resources budgets. Karen provides timely information to Library Heads and librarian liaisons to enable their decision-making with regard to licensed consortial products. She also alerts her Resources team members of license and product changes to assist in providing seamless access to electronic resources.
Karen has contributed in valuable ways to both the Dal Libraries as well as to the broader Novanet community. She served as Co-Chair of the Novanet Acquisitions/Serials Committee as well as being a long-standing Acquisitions/Serials Functional Contact. She was a member of the Novanet Data Migration Team and the Novanet Training Team (Acquisitions/Serials clients "Train the Trainers"). Within the Dal Libraries, Karen served on the Technical Services Management Team, the Dal Libraries Technical Services Task Force, and more recently on the Resources Managers Group.
We will miss Karen's astute negotiation skills, conscientious attention to detail, and remarkable memory and record-keeping with regard to serials and database subscriptions.
Please join us in congratulating Karen on her upcoming retirement.
Congratulations, Karen!