Originally from Toronto, Laurel O'Brien is in her second year of the Bachelor of Commerce program. Because she enjoys and excels in the arts, Laurel moved to Halifax after taking a gap year following high school, where she began a Bachelor of Fine Arts at NSCAD. After studying at NSCAD for one year, she decided to try something different, but knew she wanted to stay in Halifax, so she transferred to Dal as a Bachelor of Arts student. She tested the waters by taking a Commerce course and fell in love with it, so she enrolled in the Bachelor of Commerce program, and as they say, the rest is history.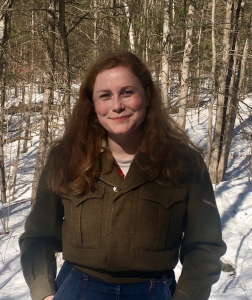 Laurel is currently completing her first co-op at LPi Group as an Account Coordinator. LPi is a marketing agency specializing in shopper marketing. "I handle a variety of tasks and projects supporting the accounts teams, including leading client asks and organizing client files, as well as some research and analysis." She was able to develop her networking skills as well as her ability to navigate LinkedIn throughout her job search. "I spent the majority of my job search not understanding how to leverage my personal network or LinkedIn as a tool, and it was only after an MCS advisor gave me a 'crash course' that I started making real headway in securing a position."
Due to COVID-19, Laurel has been completing her work term remotely, and although there are challenges that come along with working from home, she feels very lucky to have secured a co-op position during this stressful and uncertain time. "The culture at my current workplace is very social and fun, so my colleagues have made it very easy to feel like part of the team. I do wish I could have been in the office, but there's really not all that much to lament. I feel very lucky!"
Laurel's advice for you:
Take full advantage of MCS! Have them look over your resume as much as you need – as you're editing your documents to align with a particular job opportunity, you might miss something your Career and Recruitment Specialist won't. And I can't overstate the extent to which practice interviews helped me put my best foot forward in my job interviews.
Don't be shy about the fact that you're looking for work. More times than not, when I mentioned my job search to friends and acquaintances they responded with "oh, I might know about a position" or "I have a friend who's hiring right now" – people want to help!
Pronouns: She/Her
More from Laurel: