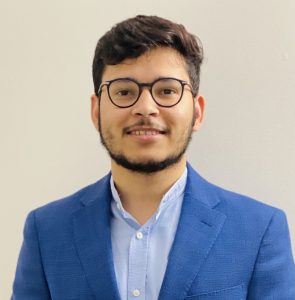 Himanshu Kumar is a third-year Bachelor of Commerce student majoring in Marketing Management. He was born and raised in Bihar, India. Himanshu came to Dalhousie through non-traditional methods, first applying to the Engineering program and eventually attending the University of Manitoba with the hope of transferring to Dalhousie at some point. After one year at UofM, Himanshu realized that he was more interested in the world of marketing. "I was exposed to marketing through some of the electives, and that's when I realized what my true passion was. I thus set on to ensure I could align my passion with my field of study. I quickly started researching the best available universities with marketing programs, and  as I would have imagined, Dalhousie University seemed to be the right choice. The coursework, pedagogy, global ranking of the university and the mandatory co-op program again put Dalhousie on my dream list." Himanshu added. With Himanshu's hard work and determination, he increased his GPA and secured a place in his newly desired dream program here at Dalhousie.
Himanshu quickly began looking for work that would allow him to gain marketing experiences while simultaneously building his resume. He received a part-time job in sales and marketing that allowed him to do just that, "I was able to secure a job at a Mobile boutique store. This job helped me develop many of the interpersonal skills that are key to the field of marketing." Himanshu added.
Despite the uncertainties of the COVID-19 pandemic, Himanshu landed his fall work term at Proposify as a Product Marketing Intern in early summer. In his job search, Himanshu sought the help of his Career and Recruitment Specialist to prepare and worked hard to find his dream job. Himanshu believes that the help and aid of Management Career Services allowed him to become more of a polished professional individual, "MCS has played a major role in developing my career. MCS's support in resume review, mock interviews, and career counselling has helped me equip myself better for the corporate world. I believe, through their services, MCS has helped me build myself as a much more skilled and polished individual. I am ever thankful for the mentor that I have found in Jonathan Perry." Himanshu added. In this role, Himanshu is involved with competitive intelligence, blog writing, and many other product marketing facets. "Proposify has truly helped me put my classroom learnings into practice in the corporate world. It has given me a plethora of learning opportunities with the safety net of the supportive team," Himanshu added.
The ongoing pandemic has affected every one of us in very different ways. Himanshu has taken this time to work on gaining skills and developing a healthy lifestyle, "A gregarious person that I am, I always enjoy being in the company of other beings. The current situation of lockdowns and social distancing has thus not been very encouraging for me as an individual. I have used this time to keep myself busy by learning new skills, reading the long-pending books that I had on my to-read list, pursuing hobbies that I always wanted to and, most importantly, developing a healthy and active lifestyle. This entire process has made me a much more disciplined and determined individual than I was ever before."
Tips from Himanshu:
Follow your dreams and choose a career path that you are passionate about.
Social media platforms like LinkedIn are powerful tools to help you understand various career paths and connect with the right individuals. Use them to the best of your ability.
Put yourself out there and get involved in on-campus activities (or virtual events for the time being).
You can follow Himanshu on Instagram at himanshu_sawarn.