Breaking news from the "We Hear You" department.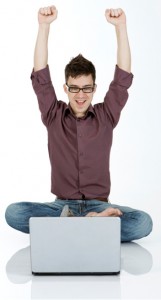 In November 2009 we ran a laptop/workstation survey in the Killam Learning Commons. We asked students who were at the workstations if they had a laptop and if so, why they were using the workstations. Difficulties connecting to the wireless network and the inability to print from laptops were identified as major obstacles to laptop use in the library. We've now addressed both of these issues.
Students working in the Killam, Kellogg and Pharmacy libraries can now print directly from their Windows or Mac laptops to the black and white printers in the Learning Commons. (Wireless printing was previously available only in the Sir James Dunn Law Library). For instructions on installing the iPrint software you'll need, go to the Campus Printing webpage (on campus only at this time). As always the Help Desk staff are on hand if you're having any problems.
In addition, the recent campus wireless upgrade now means you should be able to find wireless access throughout the Killam Library, including those pesky cold spots that used to send frustrated people divining through the halls, laptop in hand.
We hope these improvements make your life in the libraries a lot easier, and ease pressure on the demand for LC workstations. Please let us know how it's all working out for you!