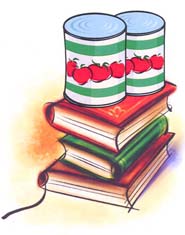 FOOD FOR FINES
January 30 – February 10, 2012
Reduce or clear your library fines with food!
For every non-perishable food item donated, participating Novanet libraries** will reduce your library fine by $2, to a maximum of $20. All food donations will be given to Feed Nova Scotia (recommended items).
Bring your donations of canned goods or other non-perishable foods to the Circulation Desk at any of the Dalhousie Libraries during regular hours. We accept cash as well, and you can make contributions even if you don't owe book fines.
Good for the libraries, good for the food bank — good for you!
**Food For Fines is an initiative of the libraries at Mount St. Vincent University, Dalhousie University, University of King's College, Cape Breton University, Atlantic School of Theology, St. Francis Xavier University, Saint Mary's University, Nova Scotia Agricultural College, NSCAD University, and the Nova Scotia Community Colleges.