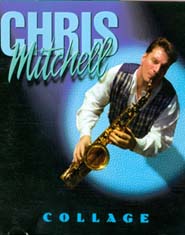 The Halifax Jazz Festival kicks off today, but here at the Dal Libraries we get to listen to all the jazz we want year round–and so can you.
The Music Collection on the 5th floor of the Killam Library is a must-visit for jazz audiophiles. Available for your on-site listening pleasure are over 400 classic vinyl jazz LPs and approximately 1,500 CDs representing all the legends of American and Canadian jazz, from Louis Armstrong, Coleman Hawkins, Stan Kenton, and Charlie Parker to Oscar Peterson and Joe Sealy. We also have recordings by local performers like Upstream and Dal's own Professor of Saxophone Chris Mitchell–the image above is from the cover of a CD called Collage he recorded at Maxwell's Plum, and we also have his other recordings The Witches of Redbeard, Spectrum and Tonic.
Hundreds of CDs by yet-to-be-jazz-greats are also awaiting you on our shelves…the joy of discovering a new jazz legend could be yours. Audio Room hours are Monday through Friday from 9am to 5 pm. For more information please call 494-3615.