The Dalhousie Libraries has launched its online collection of 3D models on DalSpace.
The collection currently features 3D scans created through a partnership with the Thomas McCulloch Museum in Dal's Biology department. Right now you can see a canine skull, a nautilus shell, and a few other 3D scans, with much more to follow over the next few weeks. 3D printable versions of these objects will also be stored on DalSpace, for replication on the Killam Library's 3D printer.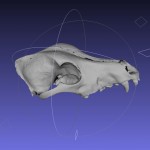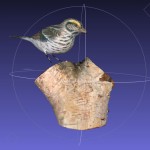 The NextEngine 3D Scanner, which was used to scan both of the above objects, is available for student and faculty use on the main floor of the Killam Library. You can book time with this scanner through the Dalhousie University Libraries Room Booking System.
The Dalhousie Libraries 3D collection is completely open for student and faculty submissions as well. We are accepting 3D scans and 3D models created through other methods, such as those designed using AutoCAD, SolidEdge or 3D Studio Max. To submit a model for inclusion in the Dalspace 3D collection, simply email it to 3Dprint@dal.ca with 'submission' in the email's title. If there's any 3D models you've created during your time at Dalhousie, this is a great way to preserve your work and build a portfolio to show future employers.