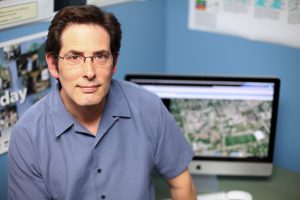 Please join Dalhousie Libraries in congratulating James Boxall for being awarded the Queen Elizabeth II Platinum Jubilee medal in December. This medal was awarded to James to recognize his career of service to geography and geographic education in Nova Scotia and Canada, of which a few highlights follow.
James was instrumental in the creation of the Canadian Council for Geographic Education, now Canadian Geographic Education, an organization which supports a network of over 20,000 teachers. He is also a fellow of the Royal Geographical Society, Past-President of the Association of Canadian Map Libraries and Archives, and co-chair of the Canadian Roundtable on Geomatics.
James has been with the Dalhousie Libraries for 31 years in a number of roles related to geography and is currently the library's GIS Specialist and Map Curator. He has developed and taught courses in Human Geography in Earth and Environmental Sciences, Geospatial Information Management in the School of Information Management, and Marine Spatial Planning in the Marine Affairs Program. James has been published widely and his geospatial and geography teaching led to his involvement with projects in Canada, the UK, Mexico, and Vietnam, often as co-chair of the International Network for Learning and Teaching Geography.
Congratulations to James on receiving this significant award in recognition of all he does at Dalhousie and beyond.