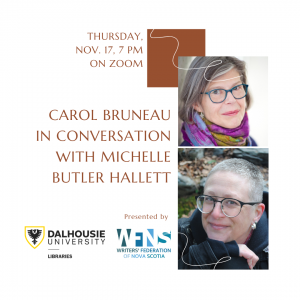 The Writers' Federation of Nova Scotia (WFNS) and Dalhousie Libraries present an evening of conversation between Carol Bruneau and Michelle Butler Hallett, winner of the 2022 Thomas Raddall Atlantic Fiction Award for her novel Constant Nobody (Goose Lane Editions). All are welcome.
In his review in the Miramichi Reader, Ian Colford calls Constant Nobody "a complex, absorbing historical thriller. […] Constant Nobody is a difficult, sprawling, challenging novel, but its power is undeniable," he concludes. "It represents a clear triumph of the imagination. The sheer artistry that has gone into shaping and writing this story is nothing short of spectacular."
Self-described history nerd Michelle Butler Hallett writes fiction about violence, evil, love, and grace. Constant Nobody is her fifth novel. She lives in St. John's, NL.
Carol Bruneau is the author of nine books: three short fiction collections and six novels, including Brighten the Corner Where You Are, inspired by the life of folk artist Maud Lewis. Bruneau was the 2001 Thomas Raddall Atlantic Fiction Award winner for Purple for Sky.
Goose Lane Editions has provided WFNS with copies of two of Butler Hallett's books, This Marlowe and Constant Nobody, to give away as virtual door prizes. All registrants in attendance will have a chance at winning.
The free virtual event will take place on Zoom on Thursday, November 17, starting at 7 p.m. Please register to attend.