with content from Creighton Barrett and Sarah Stevenson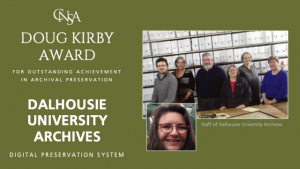 The Dalhousie Libraries is delighted to share wonderful news that the Archives was recently the recipient of two awards from the Council of Nova Scotia Archives. The Archives serves as Dalhousie's corporate memory by identifying, preserving, and making available institutional records of enduring value, including textural, photographic, audiovisual, and electronic materials. The Archives also acquires records of independent student, alumni and employee organizations, private papers from prominent faculty and alumni, and university publications. Together, these records document the work of the university, and tell the story of the Dalhousie community and its people over time.
Doug Kirby Award for outstanding achievement in archival preservation
The Dalhousie Archives won the Doug Kirby Award for their Digital Preservation System Project, which began in 2018. Led by Digital Archivist Creighton Barrett, the Archives' need for a robust digital preservation solution became increasingly apparent as the Libraries began digitizing historic university records to celebrate Dalhousie's 200th anniversary in 2018.
With support from the senior leadership team of the Dalhousie Libraries and colleagues in Procurement, Creighton outlined the functional requirements and wrote a request for proposals for a digital preservation system based on the Open Archival Information System (OAIS) and other international digital preservation standards.
After years of testing and development, the Archives created its first standards-compliant Archival Information Packages (AIPs) in April 2021. While this research and development was under way, the Dal Libraries also took other initiatives to support its emerging digital preservation program:
Established a new Preservation Committee with a mandate to carry out Preservation Planning functions described in the Open Archival Information System (OAIS)
Implemented new user-friendly "Managed File Transfer" software that will support a new file transfer service to be launched later this year. See our YouTube tutorial: https://www.youtube.com/watch?v=N_fU8Ssz4FQ
Reconfigured the Storage Area Network (SAN) digital storage environment that houses approximately 120 TB of archival data waiting to be ingested into the digital preservation system.
Developed documentation on Archivematica and the Managed File Transfer software.
The Dal Libraries continues to work with Artefactual Systems to configure and maintain the digital preservation system.
Dr. Phyllis R. Blakeley Award for outstanding accomplishment in archival work
The Dalhousie Archives won the Dr. Phyllis R. Blakeley Award for the Ronald St. John MacDonald fonds processing project. Paulo Matheus de Sousa Lima, Archives Assistant, was the primary staff person for this project, receiving support from the Digital Archivist, the University Records Manager, and staff Archives Assistants.
The project ran from September 2020–March 2021 and was funded through a grant from the Provincial Archival Development Program (PADP). This funding allowed the Dalhousie University Archives to hire Matheus to focus on the personal archives of Ronald St. John MacDonald, an international law professor and judge. The archival fonds includes 15.64 metres of textual records and other material.
Matheus conducted an archival appraisal and then created and carried out a detailed plan to arrange and describe the fonds. He also rehoused the material in archival quality file folders and boxes. In total, Matheus created 691 file-level descriptions, 25 sub-series level descriptions, four series-level descriptions, and one fonds-level description. He also drafted an archival authority record that describes the life and career of Ronald St. John MacDonald. The archival appraisal and processing project resulted in the deaccessioning of 1.5 metres of textual records.
The finding aid for the Ronald St. John MacDonald fonds is available here: https://findingaids.library.dal.ca/ronald-st-john-macdonalds-fonds
Congratulations to the entire Dalhousie Archives team on the completion of these extensive projects and for winning two well-deserved awards! With thanks to Creighton Barrett and Sarah Stevenson for providing much of the content for this message.