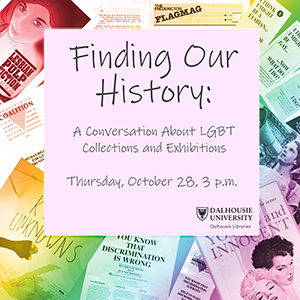 To celebrate LGBT History Month, join our group of panelists for a showcase of 2SLGBTQIA-focused collections, exhibitions, and history projects from across Atlantic Canada. Moderated by Nova Scotia LGBT Seniors' Archive founder Jacqueline Gahagan, panelists will discuss how these projects enable members of the community to find, access, and interact with information about 2SLGBTQIA history in the region.
Meredith J. Batt (they/them) is an archivist at the Provincial Archives of New Brunswick and the President of the Queer Heritage Initiative of New Brunswick, an archival initiative which collects the history of 2SLGBTQIA+ people across the province. Their forthcoming co-authored book, Len & Cub: A queer history, explores one of the oldest known photographic records of a same-sex couple in the Maritimes and will be released in April 2022 with Goose Lane Editions.
Jacqueline (Jacquie) Gahagan, PhD (they/them) is a medical sociologist working in the areas of mixed methods health promotion and health policy research. Specifically, Dr. Gahagan uses gender-based and intersectional analyses to understand the impacts of health promotion interventions aimed at addressing health inequities faced by marginalized populations, including the LGBTQ populations and populations affected by HIV, HCV, and other STBBIs. Dr. Gahagan is the co-director of the Atlantic Interdisciplinary Research Network: Social Behavioral Aspects of HIV and HCV (AIRN) which is an Atlantic regional network of over 250 researchers, policy makers, and community-based service providers.
Daze Jefferies (she/her) is a sixth-generation white settler artist, writer, and researcher born and raised in the Bay of Exploits on the northeast coast of rural Newfoundland. 

Deeply informed by geographies and histories of trans women (and) sex workers in Atlantic Canada, 

her research-creation and multidisciplinary projects have been exhibited at Eastern Edge, The Rooms, Unscripted Twillingate, Inverness County Centre for the Arts, and Cape Breton University Art Gallery, as well as performed widely at festivals, theatres, and house shows in St. John's – including HOLD FAST, Lawnya Vawnya, FemFest, and Out of Earshot. Co-author of Autoethnography and Feminist Theory at the Water's Edge: Unsettled Islands (2018), she has recent publications in Riddle Fence, Understorey, HELD, The Dalhousie Review, Arc, and Feral Feminisms.
Robin Metcalfe (he/him) is a Canadian writer, critic, and curator. He has been active nationally and internationally as a gay activist, journalist, and community historian since the mid-1970s. His fiction, poetry, and essays have appeared in more than sixty magazines, including The Body Politic, and many anthologies. His exhibitions include Queer Looking, Queer Acting: Lesbian and Gay Vernacular (MSVU Art Gallery, 1997; remounted 2014) and Camp Fires (Gardiner Museum, 2014, touring to Montréal, Halifax and Bellevue, WA). He won the 2000 Evelyn Richardson Prize for Non-Fiction and was short-listed for a Canadian National Magazine Award in 2004. Halifax Pride named him honorary Grand Marshall in 2010.
Rachel Moore (she/her) is a queer archivist residing in Kjipuktuk (Halifax). Through her work as a Research Assistant with the Nova Scotia LGBT Seniors Archive, Rachel is involved in the processing and preservation of Nova Scotia's LGBT history. She is passionate about protecting this cultural history and providing access for future generations. Rachel received her Master of Library and Information Studies this past May from Dalhousie University's School of Information Management. During her time at SIM, Rachel served as Programming Co-Chair, and later Conference Co-Chair for the Information Without Borders Conference, where she oversaw the conference's transition to its online format. She was awarded the 2021 SIM Leadership Award in recognition of this work.
Denyse Rodrigues (she/they) practices librarianship at Mount Saint Vincent University (MSVU) in Halifax, Nova Scotia, Canada. Among her responsibilities are coordinating e-learning and library research services, liaising with departments in the Social Sciences including Women's Studies, and teaching a credit-bearing online information literacy course. Denyse is keenly interested in using digital media and popular culture to open dialogues and help students engage with research.
This event is presented by the Dalhousie Libraries, home of the NS LGBT Seniors' Archive.