by Sarah Jane Dooley, Louise Gillis, & Melissa Helwig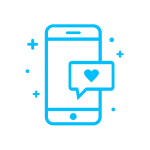 Did you know many of our services are available online, like access to thousands of e-journals and e-books? Start your search here: https://libraries.dal.ca. There you will also find the most up-to-date information on our services and spaces.
To make this as easy as possible for you, we created a Top 5 Tips to stay connected with us whether you are working on campus or at home.

Tip #1: Ask a Librarian
Did you know you have a personal librarian?  Each program and faculty at Dalhousie has a subject librarian. You are welcome to email them directly at any stage of your research process. Your librarian is ready to help you and is accessible by email or by research appointment.
Start with the Subject Guides to search for your librarian by name or by subject area.
Or go to Ask Us to contact your local library.
We also provide LiveHelp (a chat-based reference service ideal for quick questions; find the link at the bottom of the Libraries' homepage) as well as Brightspace support for faculty (intech@dal.ca) and IT HelpDesk assistance (support@dal.ca).

Tip #2: Start with Our Subject Guides
Overwhelmed or unsure where to start with electronic resources? Try a Subject Guide. These curated collections of subject-specific resources are an excellent starting point for your research. They highlight relevant databases, useful journals, e-books and more. Still stuck? Your librarian's contact details are listed too!
Tip #3: Register Your DalCard
Why should you register your DalCard with the library? It allows you to access Document Delivery (see below for more important details). It also allows you to look at your library account info online and check due dates. See the online registration form here: https://libraries.dal.ca/borrow/library-cards.html

Tip #4: Document Delivery
How do I access journal articles and books that Dal Libraries doesn't have?
Document Delivery (aka Interlibrary Loan) is a free service that delivers books in print, as well as journal articles and book chapters electronically.
You can use the patron request (aka order form) from the Document Delivery page or check our YouTube tutorial on using Get it@Dal to access Document Delivery. To log in you need to have your DalCard registered at the library (see above). Your login is the barcode on your DalCard and your username is the last four digits of the phone number associated with your library account.

Tip #5: Study Space
Are you looking for the perfect place to study?
Computer workstations, group meeting rooms or that little nook at the end of an aisle: everyone can find a great space to work in our libraries.  For details and to book, click here: https://libraries.dal.ca/services/book-a-study-room-or-computer–new–.html