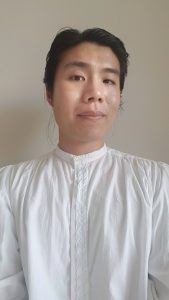 Name: Vinson Li
Pronouns: He/They
Hometown: Toronto
What is your favorite summer activity? Or your favourite Halifax activity?
Walking around town with friends or checking out a trail with friends.
What is your internship title? Which library (and archives!) location are you affiliated with?
Reference Intern; W.K. Kellogg Health Sciences Library
What brought you to the MI program at Dal?
I wanted to become a librarian and I liked the idea of a mandatory practicum (work experience is important) and I wanted to go somewhere new and interesting.
What drew you to the internship opportunity at the Dal Libraries?
I've never been involved with academic libraries and I thought my experience with healthcare settings would provide a unique perspective.
What's your educational background?
PharmD and 3 years in a Bachelor of Science, both done at the University of Toronto 
What have you been doing during your internship and how has the pandemic shaped your internship?My daily roles include answering emails from patrons that need help with accessing library resources and helping the librarians with various research projects, but there is more that I'm involved with. We serve a variety of patrons including faculty, staff, learners, regional health professionals and researchers across the faculties of health, medicine, and dentistry.
My big project for the summer is renovating the Systematic Review LibGuide. This LibGuide sees tons of traffic from many students and researchers informing their knowledge synthesis projects and my job is to update the guide with current resources and to make it easier to navigate.
I'm also a part of a scoping review looking into how undergraduate medical education across the world has handled the shift over to online learning during the pandemic.
I've also been assisting the library with creating online tutorial videos using Camtasia. I also compile recommendations for acquisition of new textbooks and eBooks by looking at what's available, what gaps we have in our current collection, and referring to trusted reviews of potential purchases. I assist the librarians when they do consultations with researchers to help them with refining their search strategy; this may involve having a conversation over a video conferencing program to better understand their needs.
The pandemic has made the internship more convenient since I can do things from home, but it's been hard to get in the right headspace since I can't come into the library to work.