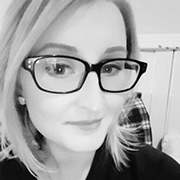 Name: Annalise Benoit
Pronouns: she/her
Hometown: Aylmer, QC 
What is your favourite summer activity? Or your favourite Halifax activity?  
I love a BBQ, going for walks around Sullivan's Pond, and weekend trips to the farmers' market.  
What is your internship title? Which library (and archives!) location are you affiliated with?
Reference Assistant at the Sir James Dunn Law Library. 
What brought you to the MI program at Dal? 
Dal is one of the few universities in Canada to offer a combined degree in Law and Information Studies (JD/MI). I love that I can work towards my law degree without sacrificing my other academic interests. Most importantly, I love Nova Scotia and have no desire whatsoever to leave! I didn't even apply to any other schools and, lucky for me, it worked out.  
What drew you to the internship opportunity at the Dal Libraries? 
The law library is really the perfect fit for me. I started in the summer of 2019 after my first year in the MI program and have stayed on ever since.  
What's your educational background? 
BA in History & Cultural Studies from Mount Saint Vincent University.  
What have you been doing during your internship and how has the pandemic shaped your internship? 
This summer, I have been doing a lot of work in Schulich Law Scholars, the law school's institutional repository, such as adding content, editing metadata, and creating faculty profiles. I've also started developing my own project – a master index of the major reports and commissions on Indigenous people such as the Truth & Reconciliation Commission (TRC) report, the Missing & Murdered Indigenous Women & Girls (MMIWG) report, and the Royal Commission on Aboriginal Peoples (RCAP) report, to name a few. The pandemic hasn't had much of an impact on my work, other than keeping me away from my amazing colleagues – but fortunately, that is slowly starting to change as we begin to return to working on-site!