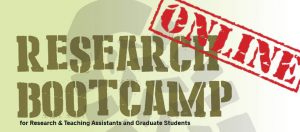 For the 7th year, the Dalhousie Libraries is offering Research Bootcamp, a suite of modules designed for teaching and research assistants and graduate students. It's also open to faculty and staff. If you know of someone who could benefit from developing effective research and writing skills, please share this information with them.
This year, Research Bootcamp will occur completely online via Brightspace. From May 3–June 4, this 5-week program will include asynchronous modules on the following topics:
Getting started with research
Writing literature reviews, abstracts, and grants
Citation management
Copyright
Searching in various subject areas: PubMed, humanities resources, grey literature, legal resources, and Canadian data and statistics
Mastering Excel
Research data management planning
Research synthesis methods
Open Access & predatory publishers
Creating conference posters
Participants are not required to complete all modules, but can pick and choose modules based on individual interest and skill level. Faculty can recommend the program to their RAs/TAs or register on their behalf. All module content will remain accessible to participants until July 1, 2021.
A complete list of modules and descriptions is available here.
Program website, including schedule, module descriptions, FAQs: https://dal.ca.libguides.com/ResearchBootcamp
Register at: https://dal.libcal.com/event/3604004