by Ann Barrett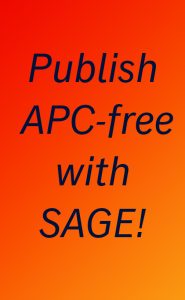 On behalf of academic libraries across the country, the Canadian Research Knowledge Network  (CRKN) has reached a transformative open access agreement with academic publisher SAGE that significantly increases open access options for Canadian researchers. Through the agreement, authors affiliated with participating CRKN institutions, like Dalhousie, may now publish their articles as open access with no Article Processing Charge (APC) in most of over 900 SAGE Choice journals (a few journals are excluded from SAGE Choice and are listed here). With the elimination of the standard SAGE article processing fee of $3,000 USD,  Dalhousie authors who seek to publish in a hybrid SAGE journal will see substantial savings. 
In addition, the agreement includes a 40 per cent discount on APCs in SAGE's gold open access journals. (See the title list of participating gold journals.) 
How does it work? 
Processing of the APC waiver for SAGE Choice journals and the discount for gold open access journals is done automatically via the SAGE Open Access Portal (SOAP) when authors identify themselves as affiliated with a participating CRKN institution. SOAP is a dashboard for authors to submit their article, select a copyright license, assign a bill payer (if applicable), and view article status. A Creative Commons license CC–BY (Creative Commons-Attribution) will be applied to open access publications unless a different license is requested by the author. 
What is a Transformative Agreement? 
There are many "flavours" of transformative agreements, but they generally all espouse the core principles of:  
shift

ing

 from paying 

for 

library

 

subscriptions to paying for 

publishing

,

 

with inclusion of clauses that 

favour

 

open access

.

 

requir

ing

 that copyright be retained by the author and not transferred to the publisher

 through a

 

CC

–

BY

 

licen

s

e

 (

allows copy and distribut

ion of

 the material in any medium or format 

and adaptation

, so long as attribution is given to the creator

 and changes indicated

)

 
How has this agreement been achieved? The agreement includes a total package price increase of 6% over three years to cover the costs of open access publishing that in the past were often paid through researcher funding grants or discretionary funding at universities.   
This is a major step forward for Open Access publishing at Dalhousie.  Please check out this and other APC discounts that the Dalhousie Libraries have arranged through publisher agreements, memberships and sponsorships.