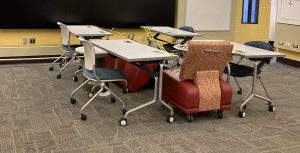 Room 2600 (also known as the LINC or the Collider) in the Killam Library will open on March 8 for groups of 3–4 Dalhousie students to study or collaborate in a "pod" for up to three hours. We are responding to requests for students to meet in groups while maintaining social distancing.
There are six pods of four seats each — all furniture has been carefully arranged to ensure social distancing protocols are maintained within the pods. Please note that in accordance with Dalhousie's Return to Campus protocols, pods cannot be combined for use of a larger group. Groups are limited to a maximum of four.
To book a study pod, select "Killam Room 2600 Group Study Pods 3–4 persons" from the drop-down menu on our room booking page. You must enter a minimum of two names (in addition to your own name). Then, you will receive an email confirming your booking. Do not come to the library if your booking has not been confirmed.
If you are seeking a study space for two people, the Wallace McCain and Kellogg Library Learning Commons have some study rooms for two.
While in the library, masks must be worn at all times and the furniture must not be moved. Food is not permitted.