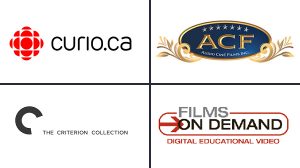 Since July 2020, the Dal Libraries has invested over $150,000 in streaming media to support the online curriculum.
If you plan to include streaming video in your winter term courses, please check the film titles in the Libraries' streaming subscriptions before submitting a request. These subscriptions are listed in the Libraries' Streaming Video Guide. These collections include thousands of documentaries, feature films, and educational content, all of which are licensed for use on the Brightspace course management platform.
In addition to the video subscriptions available through the Dalhousie Libraries, Dalhousie/King's students also have access to the contents of  Hoopla and Kanopy subscriptions through Halifax Public Libraries using their public library card. Students without a public library card can register for a digital card at this site: https://www.halifaxpubliclibraries.ca/membership/card/
Dalhousie University students should indicate Dalhousie University as their address, Halifax as their city, and B3H 4R2 as their postal code. King's students use University of King's College as their address, Halifax as their city, and B3H 2A1 as their postal code.
If you cannot meet the requirements of your syllabus with these resources, please place your film request using this form: https://util.library.dal.ca/StreamingVideo/ Please note that it can take as long as a month to locate a single title and obtain a license.
Videos found on the open internet (YouTube, Vimeo, etc.)
With proper attribution/citation, you may link to legitimately posted works found on the Internet.
If you choose to use a video you find in services such as YouTube or Vimeo in your online course, you should be aware of these potential limitations:
Videos on these services can be removed from services with little or no notice
Not all videos can be played in all countries
Link to the content rather than copying it, except where there is a license or terms of use that explicitly allows copying.
Ensure, to the best of your ability, that the content has been posted legally. Content that has not been posted with the rights holders' permission may be removed from streaming services without notice and no recourse.
Instructors should refrain from linking to videos if any of the following are evident:
the works are protected by digital locks, such as paywalls or other digital rights management mechanisms that will prevent access
there is a clearly visible notice, such as a terms of use or similar notice, posted on the website indicating that copying is not permitted
the video has likely been made available by a third-party without permission of the copyright owner
To identify information on permissible uses or for contact information for requesting permission, you may need to explore the website for pages that deal with "Terms of Use" or "Legal Notices" or look for a link to a specific license.
Popular commercial video streaming services
In most cases, videos available on commercial services like Amazon Prime, Crave, HBO, Hulu, and Netflix are not available for use in online educational settings because the providers of these services base their service model on selling subscriptions directly to consumers.
Section 29.5(d) of the Copyright Act allows instructors to show legally obtained videos in class. However, in order to access content on commercial streaming video services such as Netflix, users must accept user agreements which indicate that the services are limited to "personal use" or "household use." These agreements prohibit the display of these films in classrooms or public screenings and may override copyright exceptions available to users under the Copyright Act. These types of licenses/agreements also prohibit making recordings of the films — short clips or otherwise — since this often involves breaking digital locks or violating terms of use.
Netflix 
Netflix does offer some films for online education use through their YouTube channel. Netflix also offers in-person classroom exceptions for educational screenings, but has not made it clear whether or not these exceptions would apply to online classroom settings.
Finally, videos in commercial streaming services are not available in all countries. Content available in Canadian Netflix, for example, may not be available in the United States. Similarly, videos available in other countries may not be available in Canada. Content may also be removed at the discretion of the commercial service without notice or recourse.