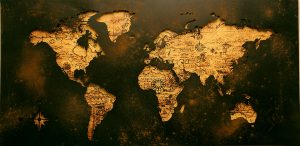 The GIS Centre is offering a pilot service this term to extend the GIS Centre's online hours for help. Starting this week, we are offering extended hours from 7–10 p.m. Atlantic time, on Mondays and Thursdays, ending on Monday, December 7.
Caitlin Cunningham, an experienced PhD student, will be handling the requests during these extended hours. Caitlin has worked in the GIS Centre and taught students how to use GIS, particularly in the School of Resource Environmental Management, during the past few years. She can be reached through email or Microsoft Teams at GIS@dal.ca.
Caitlin can answer all of your GIS questions, including but not limited to, "I'm having problems with a GIS Tool," "I need help planning my project," "I need suggestions on where to find data," and of course, the ever-favourite, "Can you help me make a map?"
If you are not familiar with Teams (where to chat, have voice conversations, or do screen sharing) then please check out our remote access instructions: https://cdn.dal.ca/content/dam/dalhousie/pdf/library/gis/RemoteAccessToTroubleshootArcGISatDAL_UsingTeams.pdf
We are doing our best to support students learning how to use geospatial data and ArcGIS software. We hope and anticipate that these extended hours will help support online learning activities in current courses, particularly for those students living outside the Atlantic region where time zones have been an issue.
If you have any feedback, please let us know.
Cheers from the GIS Team!
Jen Strang, James Boxall and Gwen MacNairn