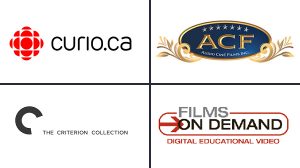 The move to online teaching this fall presented a number of new challenges for everyone. One area where the Dal Libraries have seen exponential growth over the past few months is in the number of requests we've received for streaming videos.
Since classes have moved almost exclusively online, we have received over 280 requests for videos. Even if a film is already held as a physical copy in the Dal Libraries' collection, we still must find a streaming source of the video for the online teaching environment.
To support online teaching and learning, the Dalhousie Libraries have recently added several streaming video collections: Audio Ciné, Criterion, Curio, Films-on-Demand, and Kanopy. (The content on Kanopy is limited to a selection of films purchased to support specific classes.) All of the videos found in these collections can be used in online teaching.
Despite the now thousands of films and documentaries that are available through the Dal Libraries in these new streaming video resources, faculty members often require videos that are not held in one of the streaming collections we subscribe to. When that happens, the Dal Libraries need to find the distributor of the video and acquire a licence for that video.

Tracking Down Videos
Films are a particular challenge to locate. Unlike books and journals, we don't have access to a standardized and comprehensive list to locate a distributor. Sites like IMDB offer clues but the information is not always complete, up-to-date, or accurate. Once we do locate the distributor, we then explain that a professor at Dalhousie University wants to screen their film to a class online and ask if they have the option of providing us with an educational streaming licence.
Sometimes the distributor does not have a streaming service or digital files they can share with us, or we learn that the distributor we located no longer holds the rights and we have to conduct another search. Sometimes, the distributor can't acquire Canadian streaming rights.
When we do find the correct distributor who has a version of the video available for educational purposes with Canadian streaming rights, our Copyright Office then reviews the licence. If all is well, we sign the licence. Staff on the Resources team then make the video accessible through the Novanet catalogue and we notify the faculty member that the video is ready.

Timelines and Costs
The process to acquire a single title can take a week to over a month and on average costs $200–$300 for a licence. A licence usually lasts for 6–12 months. Within these ranges, there is much variation. One distributor was charging as much as $4,000 US for a one-year licence. Some licences last for only two weeks.

What about Netflix and YouTube?
Services such as Netflix, HBO, and Crave only sell subscriptions to individuals for household use and do not offer educational licensing. If the video you are seeking is exclusively available through one of these commercial subscription services we are not legally able to provide access to the video.
Additionally, for students living and studying outside of Canada, content across these services will vary depending on where the user lives. For example, the content on Netflix in Canada is not the same as the content on Netflix in the US. YouTube raises similar problems — some countries have completely blocked access to their residents.
Start Early
We encourage faculty to start their search for streaming videos in our existing subscriptions before placing a request, but we recognize there will be times when a specific film or documentary is needed. As the timeline to locate the distributor and review and sign the licence can take up to a month for a single video, the earlier these requests can be submitted, the better. If it turns out the video is not available for streaming in Canada, the faculty member will be informed as soon as possible so they can adjust their syllabus accordingly.
Dalhousie faculty and staff can complete this form to request a specific streaming video to support 2020/21 online teaching. A Dalhousie login is required.
Streaming Video Subject Guide
The Dalhousie Libraries' Streaming Video subject guide provides links to the streaming video services we subscribe to and copyright guidance as it relates to using video in online teaching.
These subscriptions provide access to thousands of feature films, documentaries, educational films, and video clips covering a wide range of subject matter and genres, available to Dalhousie and King's faculty, students, and staff. The guide also includes listings for a number of sources that are freely available on the internet.
New Streaming Video Collections at the Dalhousie Libraries
Aclands Video Atlas of Human Anatomy
APA Clinical Training Videos: psychotherapy demonstration videos.
Audio Ciné: mostly recent feature films from major studios
Criterion-on-Demand: a mix of recent and older feature films and documentaries
Curio.ca: CBC video and audio materials in French and English
Digital Theatre Plus: British theatre productions
Films on Demand: a wide-ranging mix of educational films and documentaries
Journal of Visualized Experiments (JoVE): added biology, chemistry, and immunology materials
Kanopy: limited number of titles licensed to support specific courses.
Having a problem with an eResource? (films, journals, books, databases)
Please use this form. It collects the information we need to solve the problem.