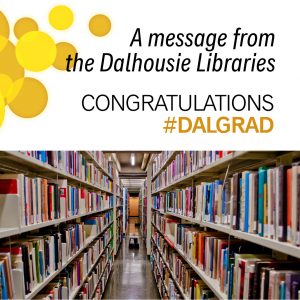 On behalf of the Dalhousie Libraries, I'm offering heart-felt congratulations to you all. We know the hard work and sacrifice it took for you to get to this day and we are very proud of you!
This year ended on a particularly challenging note, but even through these unusual circumstances, it has been our honour and our pleasure to support your academic needs, most recently providing access to e-books, e-journals, LiveHelp reference support and assistance in Brightspace for students and professors, and before that with the full range of services in our beautiful library spaces.
Regardless of your faculty, we in the Dal Libraries consider all Dalhousie grads to be our graduates. We hope that as you become alumni, your relationship with the Dalhousie Libraries continues. We look forward to supporting your life-long learning journey and that you consider getting an alumni benefits card. I invite you to keep in touch and let us know how the Dal Libraries can support you.
Donna Bourne-Tyson
Dean of Libraries
donna.bourne-tyson@dal.ca