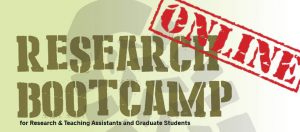 For the 6th year, the Dalhousie Libraries is offering Research Bootcamp, a suite of modules designed for teaching and research assistants and graduate students. Research Bootcamp is also open to faculty and staff.
This year, Research Bootcamp will occur completely online. Modules on the following topics will be posted weekly on Brightspace from May 25-June 29: library basics, literature reviews (searching and writing), citation tools, copyright, legal resources, PubMed, humanities resources, Canadian data and stats, grey literature, research data management, Excel, evidence synthesis, Covidence software, open access and predatory publishers, and conference posters.
Complete module list and descriptions are available at: https://dal.ca.libguides.com/ResearchBootcamp/2020/Schedule
Faculty can recommend the modules to their RAs/TAs or register on their behalf.
Event website, including schedule, module descriptions, FAQs: https://dal.ca.libguides.com/ResearchBootcamp/2020/About
Register at: https://dal.ca.libguides.com/ResearchBootcamp/2020/Registration
Registration deadline: June 3