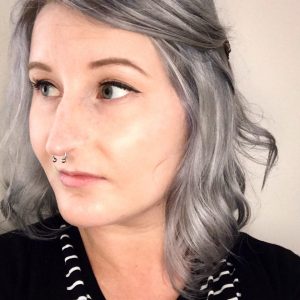 Where are you interning? Sir James Dunn Law Library
       What brought you to the MLIS program at Dal? I'm one of those people who wants to do all of the things. As a kid, I could never just pick one activity. I wanted to be in dance and theatre and play soccer… and do gymnastics. Fast-forward twentyish years and I found myself struggling, in the last year of my undergrad, to figure out what my next step should be. I knew that I hadn't reached the end of the academic road yet, but for the life of me, I could not decide which path to pursue. I was interested in law, technology, ethics, digital media, and politics, among other things, so having to pick just one felt like the ultimate injustice. What did all of these disciplines have in common then? The conclusion that I came to was, information. Studying the theory of information has allowed me continue pursuing research that draws from a variety of academic disciplines. It is the critical lens through which I now navigate through the sea of academia. And, ever the over-achiever, I opted to do the combined MLIS/JD option. If you're a free-spirit with an insatiable curiosity who dreads the thought of devoting yourself to just one area of scholarship, consider the MLIS program at Dal. Scratch all of your itches!
       What drew you to the internship at the Dal Libraries? As a combined degree student beginning law school in September 2019, having my two academic worlds collide in the form of such a wonderful opportunity was just too good to pass up. Since law school will be taking over my life for the next three years, I was keen to find a way to keep one foot in the library world. The opportunity to work at the Dunn library over the summer and throughout the school year not only allows me to stay connected to the library culture that I have come to adore, it will, hopefully, make me a better law student as well. 
What's your educational background? B.A. in Cultural Studies and History from Mount Saint Vincent University, 2018. 
What have you been doing during your internship? Learning all of the quirky things that set law libraries apart from other libraries, preparing rare books for digitization, managing LibGuides, avoiding being surprised by mouse-traps.